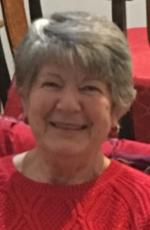 On Friday, September 11, 2020, Linda Aguirre, loving mother, grandmother of four, and Great-Grandmother of two, passed away suddenly, at the age of 76.
Linda was born on November 6, 1943 in Neu Schowe, Yugoslavia to Stefan and Elizabeth and one sister, Lore. The family moved to the United States in hope for a bright future in 1952. Making their new lives in Cleveland, Ohio, Linda and family learned to speak English, went to school, found employment and got married. Linda raised one son Aaron and was very involved in the lives of her grandsons, Jonathan, Matthew, Christopher and Michael.
Linda enjoyed extra-curricular activities joining groups at her German American club…- Schuhplattler and Ski Club. Linda enjoyed bowling, going to movies, family parties…where she was the mad photographer!! She loved to dance and have fun. Linda also was very involved at the Donauschwaben's German-American Cultural Center, working in the kitchen, and decorating for Christmas, another big passion of hers. And, as some may know, Linda loved Halloween…making a point to get a great costume.
The center of Linda's life was her son Aaron. Linda was incredibly devoted to her family. It was her joy to see the happiness of "the boys" and she was tireless in her efforts to ensure that happiness.
Those who were close to Linda will remember her happy disposition and positive attitude, rarely complaining but looking at the bright side of things and always having a kind word about most things and people.
She will be missed by her family, friends, extended family at Lenau Park, and co-workers from Mount Alverna Village. Rest in peace, Linda and keep smiling down on us.
Share This Life, Choose Your Platform!