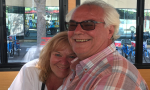 On April 5, 2022, Deborah (Debbie) English Ames went peacefully home to her Lord. Debbie was filled with grace, loved God, had a servant's heart, and giving spirit. She firmly believed and knew she would be united with her loved ones again.
Debbie was the youngest daughter of Dick and Mary Jane (Lowery) English of Westfield, PA.
Those left to cherish and honor Deb's memories are siblings Diane Verbjar, Sue and Pat McAlinn, Mark and Terry English, nieces, nephews, other family members, and daughters of Jock Litras, her dear loving partner and best friend. Debbie has many friends who will miss her dearly as well.
After high school and earning a Nursing degree, Debbie continued her education and became a nursing home administrator. She was skilled in handling all aspects of her responsibilities, and even prayed with her patients and provided comfort to them and their families in their time of need.
Debbie's closest friends and family remember her as their great encourager. She left her mark on so many hearts and was always helping; she listened, researched, gardened, painted, decorated, and beautified their world.
She held fast to the lost art of letter writing, and sent many sweet, encouraging, and humorous cards which included her sage words. She loved sending inspirational magnets too! Everywhere she worked and went, she even left encouraging words on note cards.
Debbie and Jock were passionate about visiting Art Galleries and art shows; they traveled to Key West, Sarasota Florida, up and down the East Coast, the New York Finger Lakes, and numerous cities and places in between. They loved going to her brother Mark's art shows and she always shared pictures of his metal artwork with everyone.
For a number of years, she was her friends 'travel agent' arranging group trips and fantastic itinerary!
Debbie enjoyed music and dancing! She loved being near the water and spent as much time as she could by lakes and oceans. Her favorite movie "It's a Wonderful Life" of course!!
Beautiful plants always graced her home and in recent years fuchsias profusely bloomed on her patio. She and Jock always put-up feeders for her beloved hummingbird 'Mollie' and feathered friends.
Everyone who met Debbie was blessed to know her and will dearly miss her sweet sense of humor and her generous spirit!
Share This Life, Choose Your Platform!