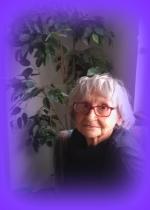 Our Mom, Sylvia Louise (Ptak) Balas of Fairview Park, Ohio passed away suddenly on April 2, 2021 at her home, leaving to mourn family – daughter Connie Davies (Bart) and son Alan Balas (Jessie). Predeceased by her father John Ptak (1978) and mother Helen Ptak (1999), our beloved grandparents. Mom was born in 1936 in Manhattan, New York, and lived in Pennsylvania and Ohio. She retired from civil service at the Department of Defense in Cleveland.
Mom always seemed to be able to rebound from whatever hurt, ailment, or trauma – physical or emotional – befell her. Sometimes it took awhile. But she seemed to always come around to finding something that gave her something to look forward to – a trip to Savers, an activity at the library, a concert at the Emerald Marina park, a trip to the dollar store or Giant Eagle, Westlife newspaper Wed. delivery, an episode of 90 Day Fiancé, Hoarders, or Shark Tank. Or finding that perfect book or DVD at Half Price Books, with lunch next door at Frankie's Italian Restaurant. On her last trip to the library with Connie – Score! Twenty free magazines! She enjoyed a wonderful collection of movies she loved. Some she watched over and over and over again. And a favorite book collection, fascinated by the history of Nazi Germany.
Mom had such an eye for beautiful things. She beautifully decorated her apartment. Beautiful wall hangings and knick-knacks that gave her joy to look at. A cozy and serene place to be. At Christmas, a most beautiful tree with such unique ornaments and pretty red and white lights.
She had a generosity of spirit. If you complimented an item, she would be quick to give it to you in earnestness. Even if she loved it. When her Doctor had dry hands, she searched and found a special lotion for him. When he was too busy to eat one day of her appointment, she trekked with her walker to the restaurant next door, to then take a salad, breads and drinks back to him.
She always wanted her children to be happy. To be healthy. Quick to always compliment the best in them. To always be a mother, to do what she could to take care of her children, even though grown adults. She managed to raise a son as a single mother, with no support. At a time when Granny was having such difficulties, that Mom had to navigate and manage on her own.
They say rest in peace. On the night Mom passed, she was so happy and looking forward to Easter dinner shopping and having Alan over on Sunday. Spunky, even. So, saying rest in peace does not seem quite right. There were hurts and anguishes that ran deep. And too many falls and broken bones to count. So, for those things, may Mom rest in blissful peace. In good health and pain free. But most of all, may Mom be free, to be the free spirit that she talked so much about how she used to and wanted to be.
Interred at Lakewood Park Cemetery, Rocky River, Ohio, among the trees and where the deer and squirrels roam.
Be free, Mom. Be free.
Share This Life, Choose Your Platform!