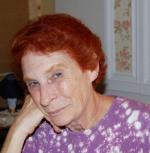 Elizabeth Fay Cleer, maiden name Rouse.
September 6th 1938, to August 18th 2021
82 years young, pre-deceased by James "Scotty" Cleer
For as long as anyone can remember, mom's signature red hair made her stand out. Her smile and lighthearted humor are what drew people in. Fay was the kind of person who cherished laughter and whimsical outlets. A woman of many talents and a devout Christian, Fay cleaned homes, worked at the dry cleaner, loved her church family, and played a mean game of Uno. She was known to trash talk her family while tossing corn hole, gaming on the Wii, playing Pictionary, and even throwing axes. She was also known for her famous Jello Surprise that surpassed all known laws of physics and gravity. Rumor has it that NASA once reached out to her for the formula of the Jello Surprise to be used as heat shield panels for the space shuttle.
Mom loved her grand children dearly, so much so, that she shot her eldest grandson, Mike, in the back while playing paintball at the age of 70. She shared horribly corny jokes with Kegan. She spent the summers putting pennies on the railroad tracks and exploring the creek with Kira and Katie. Mom looked forward to her Tuesday night Scrabble matches with Sean and Kyle. But the biggest highlight for mom was annual Camp Grandma, where all the grandkids stayed, played, and enjoyed time with her. They would like their grandma to enjoy her time with all the dogs in heaven.
Fay is survived by her brother Joe Rouse aka Greasemonkey, her first born and second favorite Kelly Scotten (Brad), her second daughter Sandy Sill (Jim), her youngest and favorite, even though Sandy thinks it's her, Jim Cleer (author of this obituary) (Rachel), adopted son Chuck Sullivan (her real favorite child), and her grandkids, Michael, Kegan, Sean, Kyle, Kira and Katie, and earthbound dogs Coach, Piper, Fish, Mr. Chips, Jamis, and Cami the cat.
We want to thank all who touched Mom's life for in doing so you touched us. Farewell Big Red, see you in heaven.
Family and friends welcome for walk through viewing, followed by a graveside service Saturday, August 21, 2021 @ Lakewood Park Cemetery 22025 Detroit Rd, Rocky River, OH 44116 @ 9:00 am.
Share This Life, Choose Your Platform!