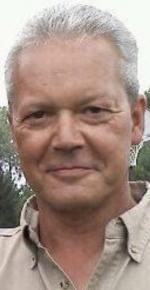 "It is with deepest sorrow and loving memory that we announce the loss of our father, Lawrence John Cruse Jr. He suffered from a medical condition that was left untreated, and passed unexpectedly in his home in Cleveland just days before his 59th birthday.
Many of us knew Larry as a chef, a lover of music, and a man full of passion for charity. He worked hard daily and cared deeply for his friends and family. Larry was lost after the passing of his parents, Sandy and Larry Sr., but we have peace knowing he finally feels whole and found again. Our dad will be cremated and his ashes will be scattered amongst the places that meant the most to him.
Please join us in celebrating the life of Larry Cruse on October 14th from 1-4pm at Edgewater Park near the Cleveland script sign. Assorted light refreshments will be provided, along with individually packaged snacks. Our dad touched many lives throughout the years, so we wanted to extend our celebration to as many as possible. Anyone who knew and loved Larry is welcome to join us as we reminisce on the wonderful memories he graced us with.
Due to the nature of COVID-19, we ask that everyone practice social distancing and wear a facial covering when mingling, looking through photos, or making food and drink selections. Hand sanitizer will be provided for your safety.
If you are interested in extending your condolences in the form of a gift, we ask that you do not send flowers. Instead, we are accepting monetary donations for some of the charities that Larry dedicated his life to and held close to his heart. Additionally, we will be donating professional clothing and essential items to a local homeless shelter. Further details on how to donate below.
Thank you to everyone for your love and concern through this process. Larry was loved by many, and will forever be missed.
Love forever,
Amanda, Jaime, and Shaena
ORGANIZATIONS:
We are accepting monetary donations for these three organizations:
-Association of the Wicked
-Cups Cafe
-Playhouse Square
We are also accepting donations of men's AND women's professional clothing OR essential items, which we will be donating to a local homeless shelter.
HOW TO DONATE:
MONEY:
-Venmo: Please send money to @InMemoryOfLarry and include the organization where you'd like your money to go in the subject line.
-Cash: Please bring cash to Larry's memorial at Edgewater Park on Wednesday inside of a bag or envelope with your organization of choice written on the outside. DO NOT give us loose cash, please. We will have a jar for cash donations, as well as a lockbox to keep your money secure.
-Check: Please make checks payable to Shaena Cruse. In the memo line, write the organization of your choice. Please bring checks to Larry's memorial at Edgewater Park on Wednesday. We will have a jar for donations, as well as a lockbox to keep your money secure.
ESSENTIAL ITEMS AND CLOTHES:
Please bring anything you'd like to be donated to a homeless shelter to Larry's memorial at Edgewater Park on Wednesday. If you are able, please place these items in a box or bag so we can transport everything more easily.
WHAT HAPPENS TO MY MONEY:
ALL money you give us will be donated to the above mentioned organizations. Once we have received all donations, I will be writing ONE check for each organization in the FULL donated amount. We will announce the full amounts once donations are closed. We are accepting donations through Saturday, October 31st. Final amounts will be announced and donated on November 1st.
WHY WE CHOSE THESE ORGANIZATIONS:
-Association of the Wicked: AoW is a non-profit organization to which my father dedicated several years of his life. He loved this organization so much, he founded the Cleveland branch of it. They do amazing work for people in need, and there are no limits to the help they try to give.
-Cups Cafe: This is a non-profit community cafe located in Medina, OH, which serves free food, water, coffee, bibles, and advice to people in the community who are in need of a safe space – particularly teenagers. Everything in this cafe is ENTIRELY free. My father loved this cafe, and spoke highly of it every time we drove past it.
-Playhouse Square: One of my father's favorite places in the entire world was Cleveland, OH. Furthermore, he was a man of impeccable taste who worked in and loved the arts and theatre."
Share This Life, Choose Your Platform!