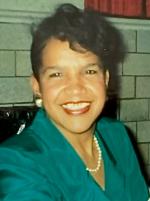 Janet Marie Davis(Chatman) was born January 15, 1937 in Charleston, West Virginia to Zuma and Henrietta Chatman who preceded her in death. Janet married Benjamin F Davis Jr on August 3rd, 1953 in Charleston, West Virginia, before moving to Cleveland, Ohio in 1955. To that union were born five children. Nedra Elaine Seay, Benjamin F Davis III, Vanessa Dale Holliday (all deceased), Donald Dwayne Davis and Henrietta Cecil Davis. She is also survived by siblings Jean Ann Allen, Lionel Lee Chatman, Theodore (Teddy) Lloyd Lovely(deceased) and Melzena Mae Askew.
Jan was baptized as one of Jehovah's Witnesses on October 10, 1977. From that point forward, faith played the central role in her life. She wanted to do more to teach others about the Bible. So much so that since June 1984, she vowed to Jehovah to devote more dedicated hours each month for teaching and helping others to gain the same relationship she had come to treasure. As a result of this privilege she studied the Bible with and aided countless others to dedicate their lives to God as one of Jehovah's Witnesses.
Jan was a skilled seamstress who loved altering and making clothes for herself and her grandchildren. She had a green thumb and enjoyed gardening both plants and vegetables. She was also known for her well-kept home and person. Everyone she met readily saw her beauty inside and out. Jan was always welcoming. It wouldn't take long for her to say "tell me something good" upon seeing friends and family.
Jan, through the years has built many dear friendships who were more like family. She enjoyed hosting parties, family dinners, playing cards and her favorite game Scrabble. Whoever had an interaction with Jan could always expect a warm smile and kind remark. She was outstandingly faithful. Her silent strength through this world's many trials stood as a fine example both inside her congregation and in the neighborhood. She will be missed not only by those already mentioned, but also by her grandchildren,great-children and a host of dear friends, spiritual family and loyal friends who stuck by her side up until and during her final days.
Jan's hope of the resurrection shined bright. She was certain she would soon be reunited with family and friends she had lost. She longed to enjoy perfect life, in perfect health as her God, Jehovah intended. That was her certainty until falling asleep in death on May 15, 2022.
Share This Life, Choose Your Platform!