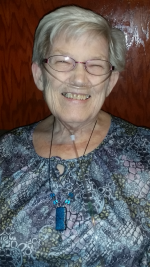 While holding her daughter's hand, Helen Hauser, age 89, took her last earthly breath on January 8, 2023. As a dear friend to many, when Helen was mentioned the words frequently following are what a special, caring, kind and loving person she was. "I have been so enriched by her love and kindness," was frequently shared. In her presence, she left people believing she was an Angel or was a channel for the Angels. Those who know her life story and struggles admire her resilience. MaMa Helen was a true inspiration as she walked her talk, treated others well and equally, and always stood up for love in the face of adversity. She carried the lived scars of tragedy in one hand and blessings and gratitude in the other. She chose blessings and gratitude to lead her way on life's path.
Helen never met a baby she didn't want to hold. As a second mom to many, Helen believed we are here to help each other and that the "greatest gift is not found under the tree but in the warm smiles and loving words of the people around us." She always said how much she loved her family and she quoted "the whole world is my family."
Helen volunteered for 20 years at a Cleveland domestic violence shelter, Templum House. Once a week she rode the bus to the shelter to care for the children while their mothers were in groups. She was famously known as Grandma Helen and the children and staff alike adored her. She also received several State and National awards for her volunteerism. She wrote, "I want to leave more than I took away in the manner of helping others. I want to feel that I have helped a child or two to a better life;" and "the love I feel for others has been returned to me; may I keep passing it around."
When she could no longer ride the bus, Mama Helen delivered meals on wheels to other residents in her building twice a week. She became a beloved volunteer for the St. Augustine's senior group and made many friends who enjoyed her warmth and humor. MaMa Helen loved to laugh. She belonged to a card playing, women-cracking-each-other up group called "HENS" for years as well.
Born in Raven, Kentucky, MaMa Helen was an avid reader since grade school. On average she read two to three books a week over her lifetime. She especially loved biographies and mysteries. She was always happy to discuss books and often traded and shared books. Due to this and her razor sharp memory, Helen was a wealth of knowledge. She could talk up a storm with story after story. To stay sharp, she exercised her mind daily with crossword puzzles and sudoku books.
Helen was intimately connected to the earth and had a green thumb. As a young child she respectfully wildcrafted medicinal herbs for her local community. She grew vegetables and knew how to store them through the cold winters. She nurtured a yard of the neighborhood's finest rose bushes and could keep an orchid alive and blooming. Helen looked for the beauty in all things. She loved dandelion flowers, which her children picked for her as bouquets.
MaMa Helen was a devoted mother, with an extraordinary work ethic. She raised three children working as a server in the restaurant industry. She worked tirelessly to make her children's wishes come true. Through the years, she has also helped to care for and shower love on many other children (and their adults) within her "chosen family."
She gave to many charities including the National Alliance for the Mentally Ill (NAMI), St Jude, and St Labre Indian School. She rescued stray cats and dogs. Ginger was a family favorite.
She rescued many of us ❤️
MaMa's bright spirit, smile and the twinkle in her eyes will shine on in our hearts.
Survived by daughter Donna J Hauser. Preceded in death by son Byron K Hauser, son James K Adams, and husband Donald E Hauser.
In lieu of flowers, (unless dandelions) Helen wished for Memorial contributions to: St Augustine Parish Ministry to the Poor, 2486 W 14th St., Cleveland Ohio 44113 website donations:
https://www.staugustinecleveland.org/ministrytothepoor
Friends and family are warmly invited to join in a Memorial and Life Celebration to be held on Monday January 23rd, 2023 from 12pm to 3pm at St Augustine Parish
2486 W 14th St., Cleveland Ohio 44113; a short service at 12pm will be followed by a luncheon with a sharing of memories and storytelling.
Share This Life, Choose Your Platform!