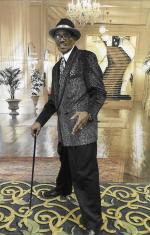 Gilbert Levin Hudgines, age 71, passed away Sunday January 23, 2022. Born in Abbeville, Alabama on November 7, 1950. He was the son of the late Eddie C. Hudgines and the late Elma B. Hudgines. He is survived by his loving and devoted wife Sandy, his son Dennis, 5 grandchildren and 2 greatgrandchildren whom he treasured, and 3 beloved brothers Gerald (Jacqueline), Thaddeus (Pamela) and Dallas, 3 sister-in-law's, 1 brother-in-law, Pearl Sanders (aunt) and a multitude of cousins, nieces, nephews and friends and most importantly his loving pet, Kobe.
Gilbert was the first of four sons that were born to this union. Being the grandchild of Rev. Robert Butler, a Baptist preacher; he believed in God and accepted that faith in Jesus was an important aspect of his life. Being the son of a military father, he grew up excelling in basketball, football and baseball, which continued into his adult life. He Graduated in 1969 from John F. Kennedy High School and in 1975 he met the love of his life, Sandy whom he spent more than 45 years together enjoying concerts, social club dinners, and annual car trips traveling to see as much of the USA as possible. His most rewarding job was his present position as Transportation Supervisor at South Franklin Circle Retirement Community in Chagrin Falls, Ohio. He said it was his dream job because he was being paid to be himself and the opportunity to help and have fun with interesting people. He was loved by the staff and all the residents and enjoyed entertaining them regularly with his music performances.
Gilbert enjoyed writing and performing music, fishing trips with his father and brothers, cooking, gardening and sitting around the campfire with family and friends. His greatest gift was that he was natural born entertainer. He was a prolific songwriter who penned lyrics about his experiences, his wife, his health issues and just about anything that would a smile on your face. He and his musical collaborator would record and self-release CD's of their songs under the moniker "The Hoochie Coochie Man". Gilbert was someone that everyone wanted to be around. He enjoyed being around everyone, no matter who you were or where you were from.
More than anything else, Gilbert will be forever remembered as a kind-hearted, loving son, brother, husband, father, family member and friend.
There will be a "Celebration of Life" service at a later date. Please contact Sandy Hudgines at sandy3763@att.net for more information.
Share This Life, Choose Your Platform!