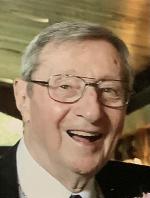 Thomas Joseph Leonhardt passed into eternal life on December 2, 2021 at 4:25pm, with his beloved wife Carolyn at his side. Tom, a native of Toledo, OH, is the son of the late Elizabeth (Betty) Faber Leonhardt, an artist, and the late William Leonhardt, a professional violinist and conductor. After his mother died when Tom was 4 years old, his father married his mother's sister, the late Agnes Faber Leonhardt, who raised Tom. Tom was also preceded in death by his brother Billy and his sister Joan. He is survived by his devoted wife Carolyn Horvath and his beloved grandson Mason S. Alexander.
A graduate of a Jesuit boarding school, Tom joined the Society of Jesus, earned a bachelor's degree and a Licentiate of Sacred Theology (S.T.L), and was ordained a Jesuit priest. Tom taught Theology and Latin at St. Ignatius High School in Cleveland.
In 1979, Tom founded an intentional faith community originally called Abba's Children, which later became known as The Emmaus Community. Tom then founded Hope House of Prayer in 1981. He was joined at Hope House by Sr. Carolyn Horvath the following year. Together, Tom and Carolyn collaborated on a ministry of prayer, spiritual direction, healing and community-building. In discerning the work of the Holy Spirit over the years, they came to understand that God called them to married life together. Tom and Carolyn married on November 18, 1989, and continued to forge a lifelong partnership that modeled equality and mutuality to all who were graced to interact with them.
Tom and Carolyn's ministry included serving as presiders at liturgies, as retreat masters, as Reiki practitioners, as leaders of Dances of Universal Peace, and were involved with meditation and other spiritual groups. Throughout the years, Tom and Carolyn were involved in numerous community service and social justice activities. Tom and Carolyn were particularly dedicated to upholding the dignity and promoting the rights of persons and groups that are often marginalized by the dominant culture. Among many examples, Tom and Carolyn were dedicated to participating in the work of the Cleveland Catholic Worker Community.
In 1991, Tom and Carolyn became members of The Federation of Christian Ministries, a national organization of faith communities and persons desiring to continue in ministry or to be certified in the ministry they feels called to do. Tom and Carolyn served in many leadership roles for the Federation, including a term as its Co-Presidents; at the time of his passing, Tom with Carolyn staffed the Federation's Central Membership Office.
In the past two decades, Tom and Carolyn utilized their years of teaching experience by becoming involved with the Kent State University College of Podiatric Medicine, where they did role-playing as podiatric patients to give students their grounding in how to interact with future patients in their careers.
Tom loved to sing, and he was very good at it. Tom's singing was an integral part of his liturgies. Tom also loved nature, and spent many hours over the decades by Lake Erie at Edgewater Park, and in various other Metroparks. Most of all, Tom loved to offer the gift of his loving presence to people who crossed his path.
A memorial service is being planned to coincide with Tom's birthday (February 20); more details will be forthcoming.
In lieu of flowers, donations may be made in Tom's name to the Federation of Christian Ministries Endowment Fund, to Hope House of Prayer, to the Cleveland Catholic Worker Community, or to a charity close to your heart.
Share This Life, Choose Your Platform!