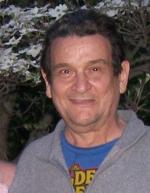 It is with deep and heavy sadness that we announce the passing of James Louis Loukas on January 26th, 2017 at the age of 72. Jimmy, son of Louis and Ann Loukas (Bafaloukos) (Pavlis), loving husband of Ruth "Baker" Loukas, father of four children: Edward, Pamela (Steve), Joanna (David) and Leonard (Tammy), and cherished "Papa" of seven: Michael and Elizabeth, Steve and Nicole, Michael and Michelle, and Morgan. He is survived by his brother John (Ginger) Loukas, sisters Joann (the late Pietro) Bafaloukos Bulgarini and Margo (Chuck) Sanida. Jimmy, known as the Mayor of Spokane, loved life, his family, friends, food, fast cars, old cars, and of course, funny cars. He was a great man that loved to tell a compelling story. Jim and Ruth's home was always open and welcoming to all. No one ever left hungry! You couldn't ask for a more kind, generous, adventurous, fun-loving and mischievous man. Jimmy was the biggest kid of all – which made him the best Papa ever! He made life fun and adventurous, from turbo car rides to candy runs. Papa always made the children in his life feel special, and he never hesitated to get down in the floor to play with Legos, cars and action figures, or go sled-riding through a cemetery with an entire Boy Scout troop. When his children were school-aged, he and Ruth filled their entire backyard with a mountain of sand! How's that for fun? From fixing cars, bicycles, lawnmowers and barbecue grills, Jimmy's garage was always open to the neighborhood. Long before tool-sharing programs emerged, Jimmy was there! He wouldn't just lend you exactly the tool you needed, he'd also lend you a hand to fix whatever needed mending. Jimmy wasn't just a Papa to his own kids and grandkids, he was often called Papa Jim by generations of neighborhood kids who'd come to know right where to go to fix a bike flat or get an ice cream bar – many of which returned to introduce their own kids or show off their very own Halloween headstone in the front yard. Jimmy touched the lives of so many. His outgoing personality and deep community roots have left an indelible impression. His spirit will absolutely carry on in all those who knew him.
A Memorial service will be held on Friday, February 24th at The Riverside Cemetery Chapel 3607 Pearl Rd. Cleveland, Ohio, at 2pm and a Memorial Dinner to celebrate Jim's life will follow at The Greek Hall at 5007 Memphis Ave. Cleveland, Ohio. 44109 From 4-9 pm.
Share This Life, Choose Your Platform!