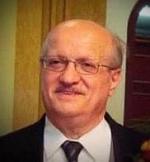 WICKLIFFE, OH – Dominic A. (Donnie) Massucci passed away peacefully on October 13, 2022 with his loving family by his side. Born September 8th, 1949 in Ashtabula, Ohio, the Son of the late Dominic and Lena Massucci (Bassignana).
Dominic graduated from Saint John High School in 1968. He served in the United States Army after high school and was stationed in Fort Polk, Louisiana and Heidelberg, Germany during the Vietnam War. He was honorably discharged and was awarded the National Defense Service Medal. After returning, he attended Kent State University and Pittsburgh Institute of Mortuary Science. He then owned & operated Massucci Memorial Chapel in Ashtabula where he took great pride in serving families in their time of need.
Sports played in integral part of life for Dominic. Baseball was his passion including coaching all of his children and watching on TV. He enjoyed watching the Yankees and the Indians as well as Lebron James wherever he played basketball. His baseball hero was Rocky Colavito, whom he was able to meet in person in 2021.
Dominic was proceeded in death by his Parents, Daughter Terry, his Brother Pat Massucci, and Sisters Angeline Massucci, Emma (Massucci) Esposito, and Shirley Massucci, as well as Brother-in-Law Anthony Esposito, Sister-in-Law Molly Massucci, and Nephews Pat Massucci Jr., and Ron Massucci.
Survivors include his wife Carol Massucci, Daughter Michelle Massucci, Sons Joseph, Jeremy, Dominic, & Jason Massucci, and his eight beloved Grandchildren and several Nieces & Nephews. All of his family was important to him, especially those who he grew up with, including his Nephews KevinEsposito & Anthony "Skeeter" Esposito.
A Mass of Christian Burial will be celebrated at Our Lady of Peace Parish, Our Lady of Mt. Carmel Church, where Dominic was a lifelong member, including serving as an altar-server in his youth. Father Raymond Thomas will officiate Mass at 1:30 p.m., Monday October 17th, with burial to follow at St. Joseph Cemetery, Ashtabula. Visitation will be held from 2 to 6 PM Sunday October 16th at the Ducro Funeral Home 4524 Elm Avenue, Ashtabula with Malloy-Esposito handling the service. Memorial contributions can be made to the Family.
Share This Life, Choose Your Platform!