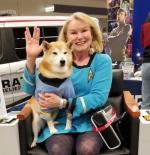 Joann Michèlle – 4/1/61 to 12/23/19
"Things don't have purposes, as if the universe were a machine, where every part has a useful function. What's the function of a galaxy? I don't know if our life has a purpose and I don't see that it matters. What does matter is that we are."
-Ursula LeGuin, Lathe of Heaven
Joann Michèlle, 58, died Monday, December 23rd, 2019 in Lakewood, Ohio. Joann was born on April 1st, 1961 in Youngstown, Ohio – perhaps being born on April Fool's Day is what gave her such a unique and goofy sense of humor, for which she will be forever remembered.
Joann was a loving mother to her two daughters, Jayni and Maree Rasmussen, instilling them with an appreciation of art, culture, and the outdoors. Her fierce advocacy and passion for justice inspired Jayni to pursue a career in policy, and she now works to expand equitable access to nature. Joann famously took her daughters to museums instead of amusement parks or malls while they were growing up, much to the chagrin of her daughters and their friends. Instead of season passes to Cedar Point, the family had annual memberships to the Western Reserve Historical Society, the Cleveland Metroparks Zoo, and the Cleveland Museum of Art. But later in life, they came to appreciate it, and it led Maree to go to Kent State University for architecture, where she recently finished out the semester with a 4.0. Joann was excited to share the news with her friends.
Joann was sharply intelligent and ambitious, being the first in her family to graduate from college, receiving an Associates in Physical Science from Youngstown State University and a B.A. in Communications from Cleveland State University. She later received a Masters of Business Administration from Cleveland State University, receiving a Public Relations Society of America award for her creative work in advertising. Just this past year, she received her Masters in User Experience (UX) Design from Kent State University. She was excited to start a new chapter of her life and career, and desperately wanted to provide for her children and guide them through their adult lives.
Joann had a plethora (one of her favorite words and a quote from a family-favorite movie, The Three Amigos) of people that considered her their best friend. Her friends will miss her bubbly personality, her thoughtfulness, and her adventurous spirit that made nearly every day with her become a memorable and hilarious story.
She loved her service dog, Zephyr, a Shiba Inu she rescued. Zephyr was abused by her past owner, but Joann gave her entire heart to her, and Zephyr returned it tenfold. Zephyr went with Joann everywhere, from hiking trips, to Start Trek conventions, to hospice care centers, where Zephyr comforted patients in the last days of their lives. For the many fans of Zephyr: please know that Joann left Zephyr to her ex-husband, Bob Rasmussen, and she is receiving endless love and care.
Her family and friends are devastated that they did not get a chance to say goodbye. They think that if Joann had the chance, she would have left them with a quote from one of her favorite books, the Hitchhiker's Guide to the Galaxy, related to her love of seafood – "So long, and thanks for all the fish." They hope that wherever she is, she brought with her a towel.
Joann is survived by her two daughters, Jayni Rasmussen and Maree Rasmussen, her siblings, Darlene Hibbard , William (Bill) Harvischak, Jr., Daniel (Dan) Harvischak , Mary Harvischak-Kerensky, and Patricia (Patty) Makosky, and her beloved service dog, Zephyr. Joann was preceded in her death by her parents, William Harvischak and Mary Harvischak (née Cruz), and her daughter, Casey Rasmussen.
Joann's memorial service and celebration of life will be held at Rocky River Nature Center on Sunday, January 26th, from 1:30 – 4:00 PM. There will be a visitation with family and friends after the service. In lieu of flowers, donations to her memorial fund can be made here. Donations will be evenly divided and sent to her favorite causes.
In memory of Joann, we suggest that you:
• Get outside! She loved hiking in Cleveland:
o Cleveland Metroparks Rocky River Reservation, Cuyahoga Valley National Park, Edgewater Park.
• Travel!
o Her favorite country was Singapore, and she even wanted to retire there. If you can't get abroad, go visit Big Bend National Park, where she went on a lady-power solo hiking trip last year with her dog Zephyr.
• Watch some of her favorite movies:
o The Blues Brothers, They Live, The Three Amigos, Stripes, Galaxy Quest, Aliens, and The Terminator.
• Go see a play:
o Playhouse Square (Cleveland), Great Lakes Shakespeare Festival (Cleveland), Shaw Festival (Niagara-on-the-Lake, Ontario, Canada)
• Watch some of her favorite shows:
o Star Trek, Red Dwarf, Dr. Who, The Good Place, Hot in Cleveland, Breaking Bad, Cowboy Bebop, Firefly, Green Acres, and The Twilight Zone.
• Read one of her favorite books:
o The Lathe of Heaven, Lord of the Rings, Maus, To Kill a Mockingbird, Ender's Game, Paradise.
Share This Life, Choose Your Platform!