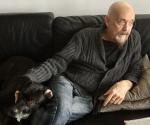 Brother, uncle and friend Paul Russel Moore, age 83, of Cleveland, Ohio, died on Sunday, Sept. 25, 2022, at the Cleveland Clinic in Cleveland after a lengthy illness. He was born on July 1, 1939, in Wooster, Ohio. He was the second son and third child born to William Paul and Alma Pearl (nee Dabney) Moore. He was preceded in death by both parents, his sister Wilma (Winston) King and brother William (Barbara) Moore, both of Wooster, nephew Shawn Moore, of Wooster, and his long-term companion John Sweetnich, of Cleveland. In addition, his two rescue dogs Freda and Free preceded him in death. He is survived by his brother Larry Moore, of Wooster, nephews Jeff (Dee) Moore and Joel Moore, both of Wooster, nieces Brenda (Kent) Warner of Bay Village, Ohio, Leslie Moore Sells, of Wooster, and Nicole (Josiah) Barnhart, of Zanesville, Ohio, as well as great nephew Adam Warner, of New York, New York, great nieces Deanna (Matt) Pittard, of Asheville, North Carolina, and Jennifer Sells McVay, of Orrville, Ohio, and four great-great nieces. In addition, he is survived by a loving network of friends and former colleagues he maintained contact with in the Cleveland area and beyond.
 
Paul was a creative child who was encouraged in his artistic pursuits by his art teacher, Gertrude Ward of Wooster. He graduated from Wooster High School in 1957 and attended both the Ringling School of Art and Design in Sarasota, Florida, and Cleveland Institute of Art in Cleveland. In 1959, Paul moved to Cleveland and started his career at Halle's Department Store in their Display Department. Higbee's Department Stores (later Dillard's) sought his creative talents for their stores and recruited him for Director of Windows, Fashion Floors and Shows. After his career in retail visual display, he provided visual and interior design consulting services to the Galleria and Tower City Center in Cleveland, Forest City Enterprises and numerous other projects.  
 
Paul's true passion was as a visual artist who created numerous sculptures and paintings for the personal collections of his friends and patrons. He loved to search for and find unique items in nature, mixed media, second-hand stores and reclaimed building materials which he would repurpose into his latest project. To view some of his works click on the following link to his Instagram page at: www.instagram.com/p.moore39/
 
Paul had a sharp mind and wit. He was a life-long learner, who read the print editions of the Plain Dealer and New York Times, collected books and subscribed to numerous periodicals, maintaining an interest in art, culture, current events, music, fashion, interior design, architecture, politics, food, nature, animals and animal rights throughout his life. He loved to watch classic movies with friends and enjoyed eclectic musical tastes ranging from classical music and Broadway productions to Billie Holiday. He maintained a beautiful apartment in the Detroit-Shoreway district of Cleveland with contemporary modern furniture, artwork, photographs, Persian rugs and African masks. Paul was personally spiritual and practiced veganism for many years.
Paul was a long-term member of the Cleveland Memorial Society (www.clevememorialsociety.org). Cremation services were performed by Malloy-Esposito Funeral Home in Cleveland.
 
Contributions in his name may be made to the following organizations:
Best Friends Animal Sanctuary in Kanab, Utah:  www.bestfriends.org/donate
The Farm Sanctuary in Watkins Glen, New York: www.farmsanctuary.org/giving/
Share This Life, Choose Your Platform!