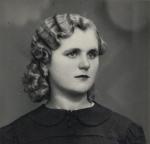 Sofia Nagy, 98, of Twinsburg, Ohio (formerly of Jamestown, New York) died on September 21, 2016, at Maison Aine/Arbors of Stow in Stow, Ohio. She was born on May 2, 1918 in Tóthfalu, Hungary, the daughter of Ferenc and Teréz Nagy.
She met her husband in a refugee camp in Yugoslavia after World War II. They married on June 16, 1950 and were married for 61 years. They immigrated to the United States in May 1956 and lived in Detroit, Michigan where they were sponsored by the Jefferson Avenue Baptist Church. In the early 1960s they moved to Jamestown, New York, where they lived for over 40 years until they moved to Cleveland, Ohio, to live with their daughter.
Sofia was a homemaker and an excellent cook. Her specialty was chicken paprikash. Throughout her life Sofia showed kindness, compassion and love towards all. Her shoulders were broad and her heart was open to a friend or stranger in need. She loved animals especially horses, dogs, and cats.
She was predeceased by her parents, her husband, Mike Nagy, who died on April 26, 2012, her brothers Ferenc Nagy and Jani Nagy, and sisters Vera Nagy and Emilia Nagy Berec.
She is survived by her daughter, Martha Nagy, nephew Gabor Berec of Cologne, Germany, niece Borbala Bicskei of Gornji Breg, Serbia, and numerous great nieces and great nephews in Germany, Serbia and Hungary.
A funeral service will be held graveside at Sunset Memorial Park in North Olmsted, Ohio, on Saturday, October 1, 2016 at 2:00 p.m. In lieu of flowers, memorial contributions may be made to the Hospice of the Western Reserve, Cleveland Animal Protective League, Geauga County Humane Society or the Chautauqua County Humane Society.
Share This Life, Choose Your Platform!