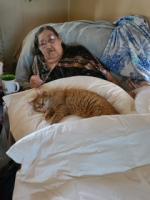 July 18th, 1938- August 11th, 2021
To describe mom's life in one paragraph cannot be done.
Living through some of the worst events made her incredible strong while tempered with love and kindness.
Her sharp wit and sarcasm would light up a room, even if it was the darkest times.
She was the most beloved mother and grandmother to: Lisa M Stein, Sherri-Lynn Plona (nee: Stein), son in law, Thomas E. Plona.
Virginia leaves behind 5 Grandchildren: John F. Turk, Amanda M. Stein, Autumn Plona, Rebecca Plona (husband: Josh K.), and Thomas Joshua Plona. She also leaves behind stepchildren and grandchildren and friends who have become family throughout the years.
Virginia also has left behind one of the most caring and loyal animals, who is mirror image of her personality, Caspurr.
Virginia M. Stein is at home where she belongs, resting in the arms of our Father.
Always.
Share This Life, Choose Your Platform!