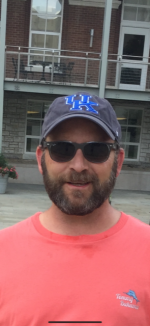 Anthony (Emo) Francis Bobkovich, 51, of Bay Village, OH passed away on Wednesday, May 25, 2022, surrounded by his wife and family after a courageous battle with cancer. He was preceded in death by his father, Thomas Bobkovich, his mother, Patricia (Ogden) Bobkovich, his sister-in-law Christine (Kubinski) Bobkovich and his brother-in-law, Robert Mancinelli. He is survived by his wife, Darcy (Mihal) Bobkovich and his children, McKinley Mihal, Calvin Mihal and Lincoln Bobkovich, his siblings and their spouses, Lori (Swan) Mancinelli, Brian Swan, David Bobkovich (and Sandy), Rhonda (Bobkovich) Custer (and Jack) and Diana Bobkovich, as well as a host of nieces and nephews.
Anthony was born and raised in Cleveland, OH. He graduated Westlake High School in 1989. He married Darcy (Westlake High School prom date) on August 15, 2009 and together they raised their family in Bay Village, Ohio. Anthony was extremely proud of all the children. McKinley is attending University of Florida and will be graduating in May of 2023. Calvin graduated University of Kentucky and is moving to Dallas for a position with Vanguard. And, of course, Lincoln is gifted and talented! Anthony especially enjoyed his yearly family vacations to Florida with his in-laws. Whenever the family would be together, you could count on board games being played. And I think Anthony enjoyed video games just as much as Lincoln.
Anthony was a Master Carpenter for JCH Builders where he was a loyal and faithful employee for over 35 years. He took great pride in his work and is loved by all of his co-workers and clients.
Anthony also loved all sports and could talk hours on the phone with his father-in-law, Chuck, about all the latest goings on. But he was definitely a DIEHARD Browns fan. He enjoyed going to draft day with his buddies to pick their teams for Fantasy Football. It was always fun to see whose team would make it to the finals.
Anthony was a wonderful husband, great father, loving brother and a great friend to so many. He will be so missed by all.
A memorial service will be held on Saturday, June 4, 2022 at 10:00 am at Bay United Methodist Church, 29931 Lake Road, Bay Village, Ohio. A Celebration of Life for Anthony is in the planning process and will be announced in the near future. In lieu of flowers, please consider a direct donation to the family or to the Hospice of the Western Reserve.
Share This Life, Choose Your Platform!