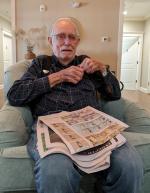 Myron C. Brokate passed away peacefully on Friday, December 16, 2022 at 93 years of age while at the Cleveland VA Hospital.
Myron was born on March 21st, 1929 and raised on a farm in Port Clinton Ohio until he left to serve in the U.S. Army during the Korean Conflict. Myron returned to civilian life and enjoyed a successful career in sales and management with Stewart-Warner Alemite in Cleveland, Ohio. Myron traveled extensively and was a faithful servant of the Lord and very involved with his church. He enjoyed hunting and fishing in his leisure time. He was preceded in death by his parents Clarence and Adelaide Brokate, his four sisters, Eunice Brokate, Velma McMillin, Vernabelle Lenke, Doris Berry, the mother of his children, Joanne (Brokate) Mehalic, and their eldest son Randall. Myron is survived by five of his six children Denise Linnen, Bryan Brokate, Andrea Wright, Scott Brokate, and Melissa El-Meanawy. A Celebration of Life will be held at a later date.
In lieu of flowers, those wishing to contribute on Myron's behalf should consider supporting their local church.
Share This Life, Choose Your Platform!