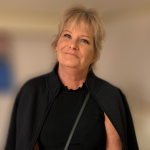 Gayle Marie Bukach (nee Zolac), age 61, passed away peacefully at home on February 16, 2022 after a courageous battle with cancer. She was the loving and devoted mother of Ashley Bukach (Charles Caldwell), Courtney Bukach (Mitchell Hadden), and Erin Bukach (Michael Occhino). Gayle was born in Cleveland on January 20, 1961 to her late parents Ignatius and Frances Zolac (nee Kobak), whom she cherished dearly. She was also a sister, aunt, niece, cousin, Godmother, and friend to many.
Gayle always made sure her daughters knew just how deeply they were loved, and she often expressed how proud she was of each of them. Teaching, encouraging, and comforting came so naturally to her. She was gentle. She was selfless. She spent countless hours listening. She always knew what to say. She always put her kids first. She was very active at her kids' schools as they were growing up, supported their interests, and was in the stands for almost every one of her daughters' games and events, often bringing snacks or cute signs. Even when they became adults, she was their biggest helper and supporter in life.
Her love and care were shared with many. She had a sensitivity and a gift for recognizing the unique needs of others, and put tremendous amount of thought and effort into helping others to the best of her abilities.
Gayle was incredibly smart, resourceful, and strong. She excelled in her various Human Resources, secretarial, and finance positions where her strong work ethic, attention to detail, and top-notch organizational skills served her well. She was the fastest, most accurate typist around. She knew how to make the best out of any situation. This tiny lady showed incredible strength and perseverance in everything she did, no matter how tough the circumstances.
Gayle will be remembered for many things, including her ability to plan and host large get-togethers and make holidays and birthdays very special. She always thought of EVERY detail, and you could count on an abundance of delicious homemade food with multiple versions of dishes made just how everyone likes them. She had many signature dishes including tomato rice soup and cheesecake (IYKYK).
She was also so much fun, had the best sense of humor, and was always up for any adventure. In her day, she was a great athlete and participated in softball, volleyball, and bowling leagues. She enjoyed things like hiking and watching sunsets, and going out with her was a blast!
An avid Cavs fan, Gayle was so excited about the Cavs' success this current season. It was not uncommon for her to predict or break big NBA news to her family (and she totally could have been an NBA analyst). She loved Channing Frye and his podcast. In true Clevelander fashion, she left this earth on 2-16.
It is no surprise that Gayle has already begun sending signs of love and comfort to her daughters. While she provided more than a lifetime's worth of love and guidance while she was here, Gayle will be deeply, deeply missed.
A Celebration of Gayle's Life will be held at a later date.
Share This Life, Choose Your Platform!