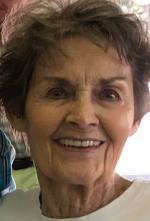 Dorothy May Cogar, age 86, of Cleveland, Ohio passed away peacefully at home after a recent diagnosis of cancer.
Dorothy was born in Delta, Ohio on May 31, 1936. She was the fifth daughter of the late Estel Harvey and Blanch May (nee Balser) Beaverson.
Dorothy graduated from Delta High School in 1954. She was the Queen's Attendant for her first three years of high school and Homecoming Queen her senior year. She was named Queen Miss Delta in 1954, as well. She was involved in several school activities including cheerleading, starring roles in school plays and played a variety of sports. She was very popular and well-liked.
After graduation, Dorothy traveled and explored different career options: beauty school in Toledo, Ohio, airline stewardess training in Omaha, Nebraska and waitressing in Florida. Following her brief time in Florida, she came home and got a job waitressing at the Toledo Airport Restaurant & Coffee Shop where she met the love of her life. She loved to retell the story of how she and her husband Phil met. Dorothy was called in to work on her day off to fill in at a part of the restaurant where she normally didn't work. She waited on "that handsome man" and struck up a conversation. They talked for a while and she invited him to go to the local quarry together after her shift. That fateful day was the beginning of their long life together.
Dorothy and Phil were married soon thereafter in April of 1958. Phil's career as an air traffic controller moved them all over the eastern United States. They started in Burlington, Vermont, then Lexington, Kentucky (where their first child was born), then Youngstown, Ohio, then Toledo, Ohio (where their last two children were born) before finally settling in Cleveland, Ohio for the duration of their lives. Dorothy continued to waitress on occasion and worked various jobs for a few years. The majority of her life, however, was spent being a homemaker taking care of her family.
She enjoyed her time performing with a singing group called The North Olmsted Choralaires in the 1970's. She liked sewing, gardening, putting puzzles together, cooking, Bingo scratch-off lottery tickets, and watching sports (especially basketball). She also enjoyed playing board games such as Aggravation and Dominos where she was ruthlessly competitive. She was friendly, energetic, independent and loved spending time with her family and grandchildren. She was very thoughtful, caring, loving, and generous. She was lovingly referred to by friends and family as sassy, feisty, and spunky, as well as "a spitfire." She will be sorely missed and remembered by many.
She was preceded in death by her husband Robert Phil Cogar of 61 years; her siblings Marjorie Van Pelt, Clifford Beaverson, Genieve Nofziger and Rozella Sintobin.
She is survived by her son Kent (Barbara) Cogar, daughters Kim (Tom) Bacisin, and Karen Cogar; her seven grandchildren Jesse (Karla) Cogar, Leia (Mike) Mandato, Sara (Brian) Toich, Anna (Trevor) Poole, David Bacisin, Bryon Cogar and Hannah Cogar; three great-grandchildren; siblings Maxine Shelt, Wayne Beaverson, Ralph Beaverson and several nieces and nephews.
Dorothy will be laid to rest with her husband Phil at the Ohio Western Reserve National Cemetery. In lieu of flowers, if desired, donations may be made to the American Cancer Society at cancer.org or the Alzheimer's Association at alz.org in memory of Dorothy May Cogar.
Share This Life, Choose Your Platform!