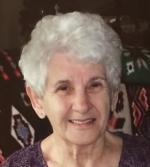 Emily June Conrad (nee Holub) passed away on May 7, 2020, at the age of 90. She was born on September 2, 1929, in the small coal mining town of York Run, Pennsylvania. She was the youngest of 13 children. After spending time in Cleveland, she and her second husband moved with their family to Hinckley in 1963 and called that their home for over 50 years.
Emily was very social and outgoing. She loved people and would stop to chat with anyone. No one was a stranger to her. She loved the Lord, and church was a big part of most of her life. She was known for her famous stuffed cabbage rolls and nutrolls, which she would often be requested to bring to the many potluck dinners she attended. She was very thoughtful and giving and will be missed by many.
For many years, she was very active and made numerous friends at the Medina County Senior Center, where she took part in things such as Bingo, pinochle, watercolor and crochet classes. When she was in her 80s, she spent countless hours crocheting lap robes to donate to local nursing homes for the "old people."
She is preceded in death by her parents, William and Hannah Holub, her husband, Darold "Bud" Conrad, her son, Tommy Powell Jr., two grandsons, Dallas and Cameron Lucas, and all of her siblings.
She is survived by her devoted and loving companion, Joseph Taylor Jr.; daughters, Sandee Robertson, Cynthia (Gary) Courie, Dorinda (Mike) Lucas, and Shelia (Roy) Antczak; grandchildren, Bridget Robertson, Brandon Hovey, and Holly Robertson; great-grandchildren, Kendra Robertson, Logan Robertson, Antonio Caraballo, James Cook, and IzaBella Slapakovs; and great-great grandchildren, Mila Sclimenti and Malayah Robertson.
Due to current restrictions on gatherings, neither a traditional service nor a celebration of life gathering can be planned at this time. She will be laid to rest with her husband at the Western Reserve National Cemetery in Rittman. Memorial contributions may be made to either the Alzheimers Association or the Hospice of the Western Reserve.
Share This Life, Choose Your Platform!