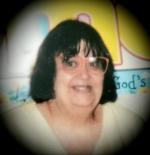 Lynne Dougan, 75, passed away peacefully, Wednesday, September 25th, 2019 at MetroHealth, surrounded by her adopted family. Lynne was born July 25th, 1944 to Albert and Catherine Henderson.
Lynne spent her time crocheting, crafting and reading. She enjoyed going to garage sales and participating in local craft shows. She appreciated some good music and playing darts. She was an avid advocate for animals of all kinds.
She is survived by her adopted family, longtime friend Steve Langford, adopted daughter Carrie Kent (Mike), adopted sons Steve Jr. (Rachel), Ben (Ashley) and Joe (Claire). She was an awesome Nanny to Nathan, Shannon, Amanda and Myra. Also, two adopted great granddaughters, Mina and Arya, and another on the way. She is also survived by her friend Barb Langford, and her feline companion, Shamus.
She is proceeded in death by her parents, and her beloved dog, Lottie.
Family and Friends are welcome to attend a luncheon, to celebrate the life Lynne lived, Sunday October 13th, 2019 at the Friendship Hall, at Ridgewood United Methodist Church, 6330 Ridge Road, Parma from 2-4pm.
Lynne's final resting place will be at the Riverside Cemetery, in Painesville, Ohio.
Share This Life, Choose Your Platform!