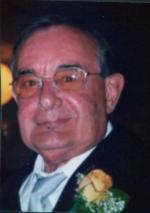 Anthony J. Esposito
ASHTABULA – Anthony Joseph "Tony" Esposito, 87, died Monday, July 9, 2018 at ACMC.
​He was born August 23, 1930 in Ashtabula, the son of Felix and Josephine (Nappi) Esposito and had been a lifelong resident.
​A graduate of Ashtabula High School, he joined the U.S. Army and honorably served his country during the Korean War.
​
​After the service, Tony went to New York City and joined the Johnny Long Orchestra and toured across the country in ballrooms and colleges. After three years with the Orchestra, Tony joined the Ralph Marterie Band, one of America's top recording bands in the 1950's. In 1956, Tony returned to Ashtabula to form his own band, the Tony Esposito Orchestra. Tony and the orchestra have been entertaining throughout the county for 45 years. Tony was also a member of the Ashtabula Symphonic Band, the Blues Project Band, and the Madison Jazz Band. Many of the groups Tony has performed at many weddings and community events and have given local concerts at Kent State and the Walnut Beach Summer Concert Series.
​He worked over 35 years as a salesman for Massucci Ford and then found an opportunity to work as a music instructor, a lifelong dream. He first taught at Geneva High School, then Assumption School, Lakeside, and finally St. John, retiring in February of 2016 due to health concerns. For years, Tony gave private lessons on numerous brass instruments but specialized in the trumpet.
​Tony was a staple at Bands on the Beach summer concerts at Walnut Beach and was an inductee into both the Ashtabula High School and St. John High School Hall of Fame. A member of Our Lady of Peace Mt. Carmel Church, he sang in the choir for many years.
​His survivors include his wife, Helen (Swaney) Bortnick Esposito; two sons, Anthony "Skeeter" (Joni) Esposito and Kevin Esposito; three step-children, Larry (Sherry) Bortnick, Lorie (Eric) Milano, and Lance Bortnick; grandchildren, Aaron (Erica) Esposito, Erica (John) Yacobozzi, Emilee Esposito, Rocco and Roman Bortnick, and Nick and Julia Milano; great-grandchildren, Arryon and Addyson Esposito and Mia and Anthony Yacobozzi; one sister, Florence Iarocci; and several nieces and nephews.
​He was preceded in death by his first wife, Emma Massucci Esposito in 1992; two sisters, Mary Colby and Carmella Esposito; one brother, Ralph Esposito; and his parents.
​Calling hours will be from 4 to 8 PM on Friday, July 13, 2018 at the ZABACK-DUCRO FUNERAL HOME, 500 West Prospect Road, Ashtabula.
​A service will be held 12:30 PM on Saturday, July 14, 2018 at Our Lady of Peace Mt. Carmel Church, 1200 East 21st St., Ashtabula. Rev. Raymond Thomas will preside. Burial will be in St. Joseph Cemetery with full military honors conducted by American Legion Dewey-Howlett Post #103.
​Contributions in his memory may be made to the Tony Esposito Music Scholarship Fund.
Share This Life, Choose Your Platform!