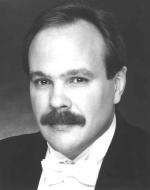 Dale Ganz has gone to that great opera stage in the sky where the singers and the music are spectacular and he is watching with friends and family, looking forward to sharing a great meal post-theater. Dale's loves were music, laughter, his parents, siblings, cousins and friends, and ultimately his marvelous wife Nancy.
Dale was born in 1956 and grew up in Gibbon, Nebraska. He graduated from the University of Nebraska in 1978. Dale then won the Corbett Opera Competition which entitled him to a full scholarship to the University of Cincinnati where he received his Master's degree and his Opera Diploma in performance.
Dale then embarked upon an operatic career. He performed extensively, singing over 20 different roles, including over 50 performances of the role of Bartolo in Rossini's The Barber of Seville. The Barber of Seville, like Dale, has proved to be a masterpiece of comedy within music, so the role of Bartolo was ideal.
In 1997, Dale joined the music faculty at Kansas State University in Manhattan, Kansas. In 1999, he married the love of his life, Nancy Maultsby, and together they made a happy home in Manhattan. Dale received tenure in 2003 and he continued to teach, loving his work and his amazing student singers until 2013.
Dale passed away on September 2, 2019, and was preceded in death by his parents, James and Doris Ruth Ganz. He is survived by his wife, Nancy, two brothers: James Jr. (Kathy) of Kearney, Nebraska and William (Rebecca) of Tucson, Arizona; three sisters: Sara of San Francisco, California, Kathryn (Norvell Brasch) of Denver, Colorado; and Georgia (David Lambert) of Brainerd, Minnesota; eleven nieces and nephews, two great-nieces, and one great-nephew. This crowd of survivors plus scores of extended family members and friends have each and every one been enriched, entertained, and honored to hold Dale as one of their own.
The family wishes to thank the amazing folks at the Ames Family Hospice House, who took such great care of Dale. We are forever grateful for their generosity and for the extraordinary care they all gave to him. No services will be held at this time. Any memorials are suggested to the Ames Family Hospice House, 30080 Hospice Way, Westlake, Ohio 44145
Share This Life, Choose Your Platform!