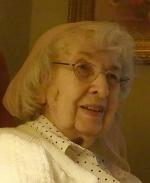 Dorothy Margaret Gibbons ended her 97-year journey through this world on Monday the 28th of September. She was a bright light to family and friends and to so many others she met along the way; it was a life of giving she shared with us.
While she was born to Marie and George Davis in Detroit, Michigan, her family ended up living in Cleveland, where she graduated from John Hay High School.
She abandoned a budding clerical career, feeling the call to enlist in the Navy in 1943. She served for three years, stationed at a Navy hospital in Seattle, earning the rank of Chief Pharmacist's Mate.
After the war, she continued her education in Cleveland where she was introduced to James Gibbons, with whom she would ultimately share 67 years in Holy Matrimony.
She lovingly raised two boys while being a housewife and helpmate to Jim as he forged his industrial sales career and created his own company.
She shared many happy times with her family, the four of them traveling the country visiting relatives and just exploring.
Facing life's challenges, she found that the writings of Christian mystic Joel S. Goldsmith spoke to her in a compelling way, and began a spiritual journey that would become her life's work. She studied under the guidance of Lorraine Sinkler, formed a loving circle of seekers, hosted meditations, and became close to those committed to the Infinite Way path.
She continued to explore and travel and develop all her life, sharing her heart and her wisdom with all who were fortunate to be in her company.
"Work is for people who don't garden" (refrigerator magnet)
She spent the last years of her life in quiet contemplation with fond memories of her beloved husband who left her arms in 2015.
Dorothy is survived by her two sons, James Clark and Paul Dominic (Athena), and her niece Catherine Petri (Bill), as well as her daughter-in-law, Terry Brussel, and spiritual son Grace Kelly Jones (Kokumo), both of whom always called her 'mom'.
Share This Life, Choose Your Platform!