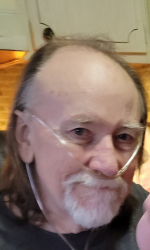 Clayton (Butch) Gunter, age 68 passed away peacefully on April 11, 2023, surrounded in love by his immediate family.
Clayton was cherished by all from his loving wife Pat of 42 years to his two children Bryan (Dee Jones) and Katie Barkley (Ray Gunderman). He was a special father figure and grandfather to Deandrea and Cianna Barkley. His other grandchildren are Felisha Fredericks, Alyssa Jones, Giovanni Palmiero, Stephanie & Bryanna Mateo, and Brayden Gunderman . He was also blessed with two great grandchildren. Clayton's beloved siblings are Jerry (Pat), Jeff and Karen (Dennis). Clayton was preceded in death by his father, Ralph and his mother Sue.
Clayton was a dear uncle, cousin, nephew, brother-in-law and a friend to many who also shared his life celebrations.
Clayton was an outdoor enthusiast and shared his love of the outdoors with family and friends in fishing, hunting and enjoying the country air at the cabin. He was a fabulous cook and was always eager to share his recipes.
Clayton worked at Decker Steel and Supply for 30 years as a truck driver and warehouse foreman. During these years he also volunteered at the Local Moose Lodge where he had a variety of responsible positions including but not limited to Sergeant at Arms, Vice President which culminated in him being selected as the Administrator of the Lodge for many years. He will always be remembered for his kindness, generosity of spirit and always willing to help someone in need. He was a man of integrity whose love of family knew no bounds.
Share This Life, Choose Your Platform!