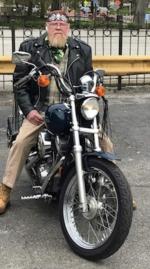 Roman G Gvozd 9/07/1958 – 11/15/2022
Roman passed away peacefully with his wife by his side on Tuesday. He was preceded in death by his mother ,Hazel and father, Roman . Loving husband of 43 yrs to Martha nee bunch . Loving brother to Cathy (Roger) Tammy and Danny . Beloved step father to Tommy (Joann) Tracy (Brian) Dawn(Chuck ) and Preston(Neicy) Loving grandfather of Carrie, Eric, Erin ,Charles, Shawn,Kayla,Summer, Seanne, Savannah, Katarina, Richard,Jordan, Noah and Nolan. Great grandfather of 25 . Private memorial to be held at a later date .
See ya later Buddy roll.
Share This Life, Choose Your Platform!