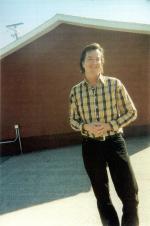 Au revoir Tim.
Timothy Jess Harry, age 58, born in San Antonio, TX to Kathryn Bernard Harry and Joseph Kingfield Harry, Timothy Jess Harry passed away December 17, 2019. The youngest of five, he is survived by his beloved sister Annette Halle, siblings Kathy Ash, Joseph Harry, and Lynne Pomeroy, his only child, daughter, Helen Lacey Severovich, son-in-law, Timothy Severovich, nephew and Godson, Adam Harry and ex-wife, Shari Wilkins.
The Harry family moved to East Liverpool, Ohio after his father passed away when Tim was a child. It was there that he excelled in acting, loved music, films and poetry, and collected lifelong, loyal friends. At 16, Tim scored in the top 1% in the nation on the National Mathematics Association Exam. A 1980 graduate of East Liverpool High School, Tim was the VP of the Student Senate, French Club President, a member of the Tennis Varsity Club, and a Thespian. Tim met Shari in Kent, Ohio in 1983 and they were married in 1985. Program Director for radio station WKSR at Kent State University, he interviewed the Minutemen in Kent on his punk rock show and then took them to the May 4, 1970 shooting site.
Moving to NYC in 1985, Tim lived there until 1988. He frequented his hero Iggy Pop's apartment in NYC when he worked in the mailroom at A&M Records. In A&R at Virgin Records, Tim served as an artist liaison with Ziggy Marley and family on the platinum Conscious Party record. He was proud of his friendship with Roy Orbison and his wife, Barbara, and Virgin Records lunch meetings with Keith Richards.
Offered a music industry job in San Francisco, Tim joined Shari on the west coast. He was playing basketball at work when the Loma Prieta earthquake struck in 1989. He was part of a team that broke Sinead O' Connor's first single in the US. A poet and filmmaker, Tim's film Car Hop, about the last car hop in San Francisco, was made in the late 1980s.
He delighted in strong Celebes coffee & made people laugh, really laugh, especially his daughter. Tim was a lifelong fan of the Dallas Cowboys and the Cincinnati Reds. He deeply believed in social justice.
He visited the Hermitage, the Prado, the Pergamon and Frida Kahlo's studio in Mexico City. He was at the Berlin Wall when it was being torn down. Paris was his favorite city.
When he moved to Cleveland, he attained his teaching certificate at Cleveland State University and taught school in East Cleveland & Cleveland. Tim worked at the Cleveland Health Museum in the 1990s before its closing. He gave 27 years of his life as the Assistant Director at the Cleveland Cinematheque. As a caretaker of Frances and Seth Taft for over 12 years, Tim lived in the Pepper Ridge community in Pepper Pike.
He was a treasured father, brother and uncle of nine nieces and nephews. His daughter Helen was the light of his life. He was a cherished friend of many. He was opinionated. He was political. He was Catholic. He had faith in his salvation.
Tim was most happy spending his time watching independent and foreign films, cooking a meal for his daughter or listening to a record on his turntable. In the summer he could be seen driving Helen around Cleveland in his prized 1962 Mercury Monterey. He was proud of his many accomplishments.
Tim Harry will be laid to rest beside his mother at a Graveside Interment Service held at 11:00 a.m. Saturday, February 1st at the Riverview Cemetery, 2026 St. Clair Avenue East in East Liverpool, Ohio with Father Scott Kopp as the celebrant.
Those wishing to make a contribution in his honor to help his daughter with end of life expenses may do so through the gofundme.com account named "Memorial For Tim Harry."
Share This Life, Choose Your Platform!