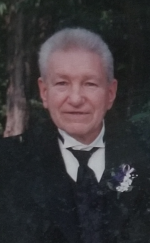 Raymond Walter Haushalter, age 86 of Lakewood, Ohio went to be with the Lord March 15, 2021. Raymond was preceded in death by his parents, Harry, and Gertrude Haushalter; two brothers Willard and Herbert; and sister Evelyn Cole. He is survived by his wife of 60 years, Phyllis Haushalter; sister Judith Bauman (Raymond); son Nathan Haushalter of Lakewood,
Ohio; and daughter Noreen Tomson (William) also of Lakewood, Ohio.
Raymond was grandfather of three, Jason Adkins, Justin Adkins, and Christina Norlund (Matthew) and great-grandfather of three, Olivia Grills, Elizabeth Norlund and Christopher Byron.
Raymond will be laid to rest Tuesday, March 23, 2021 at Strongsville Cemetery. Due to Covid
19 Restrictions, services with be for family and relatives only.
Share This Life, Choose Your Platform!