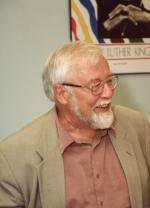 George Thomas Hrbek was born June 20, 1931, in New York City, to George Edward Hrbek and Bertha Hrbek (nee Bozinka Kubelka). He died at home on February 19, 2023, surrounded by his family. George was a community activist, passionate advocate for racial and economic justice, and preacher of an inclusive, life-affirming faith.
George was raised in New Jersey in a lively, intergenerational Czech family populated by elders with unorthodox politics. He witnessed to this childhood as anchoring him in the values he carried for a lifetime.
As a teenager, he met an unassuming, blue-jean clad man on the streets who turned out to be a Lutheran minister. The Rev.Arthur Hawlicheck spoke a clear message that further validated what George learned from his family: "You are created by God and there's nobody who can add to your worth as a human being, and there's nobody who can take away from your worth. You are gifted. Every human being is."
Also pivotal to the orientation of George's life and, ultimately, his life's work were his high school years living in Jim Crow Birmingham, Alabama, and attending a segregated white school. His father was staunchly opposed to the racist practices carried out by whites, and their conversations gave George a grounding to develop his own commitment to racial justice.
After meeting and marrying Gertrude Bauer in North Dakota, George completed seminary in St. Louis, Missouri. With Gert, George carried out his ministry through the Lutheran Church in Selma, Alabama; New Orleans, Louisiana; Altus, Oklahoma; Chicago, Illinois; and Cleveland, Ohio. Together, they had four children.
George spent the last 44 years of his life in Cleveland with his second wife, Stephanie Morrison Hrbek, where they raised two sons. For sixteen years, George served as interim pastor of Calvary Lutheran Church, East Cleveland, and remained an active member.
Fearless in speaking truth to power, George dedicated his life to movements grounded in racial and economic justice. Embracing the radical way Jesus identified with the stigmatized, oppressed, and forgotten, George organized, preached, protested, and worked to dismantle unjust power structures. In collaboration with others, he founded numerous justice-serving organizations including Lutheran Metropolitan Ministry, Cuyahoga County Ombudsman Program, Near West Theatre, and Northeast Ohio Coalition for the Homeless.
George adamantly refused to demonize those who stood in opposition to the causes he advocated. Instead of dividing the world into "us" versus "them," he steadfastly worked for mutual understanding and reconciliation.
To the end of his days, George actively brought his passion to developing strategies for several community projects. Just this year, he had thrown his heart into defending the right of homeless youth to have a drop-in center in a gentrified neighborhood where they could find dignity, safety, and connection.
Those who knew George well can witness to his love of storytelling and his lively engagement with all members of the community. "He made everyone feel welcome," is one of the most common phrases used to describe George.
He was preceded in death by his brother Howard (Norma Hrbek) and his sister, Althea. George is survived by his wife, Stephanie Morrison Hrbek, his sister, Janet Griffin (Eugene), and his children Noah Hrbek; Seth Hrbek (Bridget McGrath); Bethany Hrbek (Jim Pounds); Thomas Hrbek (Jennifer Brotman); Kimberly Hrbek (Michael Rust); Andrea Hrbek (Edward Dimock); thirteen grandchildren and thirteen great-grandchildren.
Celebration of Life
Saturday, April 29, 2023
1:00 p.m.
Capitol Movie Theatre
1390 West 65th
Cleveland, OH 44102
Doors open at 12:30 p.m.
Seating is limited
Service will be available live via Vimeo* as well as recorded for later viewing.
Reception immediately following:
Near West Theatre
6702 West 67th St.
Cleveland, OH 44102
*For Vimeo, no account needed. Just copy this link:
vimeo.com/event/3308752
~~~~~~~~~~~~~~~~~~~~~~~~~
Streets & lots available for parking throughout the Gordon Square Arts District.
Gifts can be made to….
Calvary Lutheran Church, 13101 Euclid Ave., East Cleveland, OH 44112
and
Northeast Ohio Coalition for the Homeless (NEOCH) at www.neoch.org
For a detailed account of George's remarkable life journey and ministry, see Lynn Burnett's portrait in Cross Cultural Solidarity.
Share This Life, Choose Your Platform!