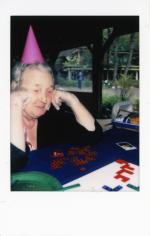 Adrienne Cobourn Ingley was born on March 21st, 1944 in Washington, D.C, the oldest child of Albert and Marion Ingley. Adrienne passed away in Cleveland, Ohio on June 5th, 2020, and she will be greatly missed by her family, close friends, students, and professional colleagues. Adrienne is preceded in death by her mother Marion Ingley, her father Albert Ingley, and her sister Katherine Brandt. She is survived by her son Aaron Ingley, her daughter Alexandria Ingley, her sister Elizabeth Mullin, and her brother Kevin Ingley.
Adrienne proudly described herself as a former teacher and a forever educator. A fierce advocate for the equity of educational opportunities, she talked often about the intersection of education and social change. Her deep love of history and the written word inspired generations of literary explorers, authors, and learners.
Adrienne referred to herself as a citizen of the world, and profoundly celebrated the richness and beauty of our diverse cultures and communities. Her travels began in the picturesque grounds of Mount Holyoke College, where she received her Bachelors degree in English. She continued on to earn her Masters degree in English Education from the University of Chicago in 1966. Adrienne's spirit of adventure and her sense of the larger world around her inspired one of her most cherished experiences – the opportunity to teach English to students in Kuwait. As she would beautifully narrate, her time in Kuwait helped fundamentally shape who she became. Finding herself centered in a male dominated culture as an unmarried American woman, Adrienne discovered a bold and brave life as defined solely by her. Adrienne used her intellect and her gifts of language to break down societal barriers and show her students, and the world, that they could be anything they wanted to be regardless of race, religious belief system, or gender. A few of her favorites collected throughout her travels include Mediterranean food, French films without subtitles, the beauty of Russian Fabergé eggs, truly traditional German sauerkraut, and the moon rising against the Persian desert.
Adrienne radiated warmth and appreciation for others, and lived the values of compassion, openness, and a belief in people. She created connections wherever she was, and generously shared her humor, courage, resiliency in the face of challenge, and hope for tomorrow. For Adrienne, love was given as unconditional and nurturing. In so many ways, Adrienne was one of the kindest, wisest, and most soulful people that the world has known.
The impact of this remarkable person lives on through her work as an educator, and in the lives of those who love her. We celebrate her life and will carry her with us in everything we do, especially when ordering extra pickles and mustard, dancing to Sam Cooke, searching for the moon in the night sky, and never forgetting to say 'I love you.'
Share This Life, Choose Your Platform!