JENNINGS,

CATHERINE LOUISE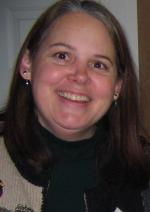 Catherine Louise Jennings
June 28, 1960 – March 14, 2018
Catherine Louise Jennings departed this life on Wednesday, March 14, 2018 and now rests in the loving arms of her Lord and Savior.
Catherine had many passions in her life including knitting, counted cross-stitch, gardening, and of course her dogs and cats. She also had a particular devotion to charitable causes that benefit children. She often taught classes in knitting and cross-stitch and she led efforts to provide clothing and school supplies for children in Haiti and Africa. Catherine was also the chief organizer of the 2005 Provincial Synod of the Original Province of the Anglican Catholic Church in Grand Rapids MI.
Catherine is survived by her husband of 38 years, the Rev. Fr. Daniel Jennings, Rector of St. James ACC in Cleveland (OH), her father and mother, Howard and Patricia Sandel of Grand Haven (MI), her sister, Diana Smith of Wyoming (MI), her brother, Steven Sandel of Grand Rapids (MI) and several nieces and nephews.
Visitation with the family will be held at St. Paul's Anglican Catholic Church, 2560 Lake Michigan Drive, Grand Rapids MI 49504, on Friday, April 6, 2018 from 5 to 9 PM. The Requiem Mass will be celebrated by the Rt. Rev. Rommie M. Starks at St. Paul's on Saturday, April 7, 2018 at 10:00 AM. The Venerable Barry A. Lewis will deliver the panegyric.
In lieu of flowers the family asks that donations in Catherine's memory be sent to St. James Anglican Catholic Church (address below), designating The Missionary Society of St. Paul the Apostle as special intention.
St. James Anglican Catholic Church
PO box 603949
Cleveland, OH
44103
Share This Life, Choose Your Platform!