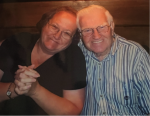 Evangeline K. Jordan (Klies)
Born February 4th 1940, entered into heaven on 21 March 2023, preceded in death by her husband of over 51 years William D. Jordan Sr. Daughter of Otis Klies and Augusta (Miller). Mother of Gail Stansberry (Margie Lucas) of Florida, Renee Stansberry (Jack Williams) of Texas, William D Jr (Joni), Michael J. (Christine), First Sergeant Ret. John D. (Kathy) of Indiana, Timothy (Melody) and George K. (Shannon Longan) of Texas. Sister of George Klies (Sally), Marion Klies (Larry Williams), Charles Klies (Joan) of Chandlersville OH. Also surviving, 21 Grandchildren, 13 Great Grandchildren. Retired as an Owner and Real Estate Broker serving her community for over 40 years.
Evangeline loved her family, friends and many other things later in life especially Diamond Art Painting with her daughters Tina and Kathy as well as nieces Suzy, Lori and Amy. Her passion for birds, especially the Cardinal was apparent if you were ever in her company and one was spotted. She had many relationships with several generations of the same family through her decades of assisting the community with their real estate needs. She was also a Member of the Order of the Eastern Star since early in her adult life.
As anyone that knew her will say Evangeline raised on a farm was one strong lady. She and her late husband raised 7 kids! She battled Covid not once but twice. Imagine a country bumpkin who grew up selling houses! She never had a driver's license and still managed to be successful in real estate. She was big on education and exercising your right to vote. We all learned much from her over the years. Her favorite hobbies were: antique's, reading, shopping, crossword puzzles, watching TV, traveling, gambling, arts, crafts, and especially diamond painting. She also loved bingo, watching ice skating, going out to eat, and catching a good movie! Mom's favorite desserts were pecan pie, carrot cake, and she loved her brownies with Tina. For those that don't talk on the phone often, mom would change that in your relationship.
We all sure will miss our chats Ma.
Viewing at the Malloy Esposito Celebration Center on 31 March 2023 from 5-7 PM.
6384 Pearl Road Parma Heights, OH 44130
Interment Services will be at a later time at the Ohio Western Reserve National Cemetery.
10175 Rawiga Road Rittman, Oh 44270.
Share This Life, Choose Your Platform!