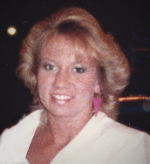 Clare R. Kaminski, 59, of Lakewood, OH, passed away peacefully on July 9, 2022, at Ames Family Hospice House in Westlake, OH, surrounded by her loving family. Clare was born on January 25, 1963, in Massillon, OH, to Joan (Scott) Molinelli and Richard Kaminski. She was preceded in death by her husband, Ian Uttley, her brother, Mark Kaminski, and her stepfather, George Molinelli. Clare was a kind and loving daughter, sister and aunt, and will be greatly missed by her family and friends.
Upon graduation from Central Catholic High School in Canton, OH, in 1981, Clare spent three years at Ursuline College studying Art Therapy. In her early twenties, she moved to Las Vegas, NV, and earned a bachelor's degree in Psychology at the University of Nevada, Las Vegas in 1985. Clare resided in Las Vegas for more than 27 years. In one of her first jobs, she worked at a small, private airport as part of a hospitality team that welcomed charter jets to Las Vegas. Not only was it exciting for her to meet interesting people, including various celebrities, the experience also sparked Clare's lifelong interest in airplanes and travel. For the majority of her career, Clare was a loyal and dedicated employee of State Farm Insurance, where she received regular promotions and became a claims adjuster. In this role, Clare had a special knack for helping distressed clients and found fulfillment in providing assistance with their complex insurance claims.
Being a talented artist, Clare enjoyed drawing and painting. She also loved taking weekend trips to California, listening to smooth jazz, and sharing meals with family and friends. Clare will be remembered for her youthful spirit, quick wit, and abundant sense of humor. She was a caring person and generous listener, always showing an interest in other people's lives.
Clare is survived by her parents Joan (Scott) Molinelli of Rocky River, OH, and Richard Kaminski of Westlake, OH; siblings Christine Bergant of Mentor, OH, Therese (Greg) Shafer of West Chester, OH, Mary (Mark) Warnkey of Miromar Lakes, FL, John (Claudia) Kaminski of Yulee, FL, and Matthew (Mark) Kaminski of Santa Fe, NM; aunts Sandy (Mike) Gordon and Shirley Scott; nieces Jenna, Erin, Cassie and Amy; nephew Andy; several grandnieces and grandnephews; lifelong friend and friend of the family, Stephanie Markovic; and caregiver and good friend, Kifah Hamed.
Funeral services will be held at St. Christopher Catholic Church in Rocky River, OH, on Monday, July 18, 2022 at 11:00 a.m.
The family welcomes memorial contributions to:
Hospice of the Western Reserve
17876 St. Clair Ave.
Cleveland, OH 44110
https://p2p.onecause.com/hwr/donate
Share This Life, Choose Your Platform!