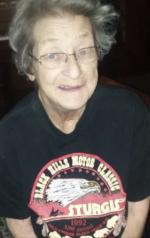 Katherine M. Klosz
August 20, 1944 – June 22, 2020
Kay departed this world on June 22 and was welcomed into Heaven by her mother Julia Klosz. Kay is survived by her many cousins and her newly found half-brother Ron Toth. Kay is also survived by her dear friend Amy Hanlon (fiancée James Pritchett) who was like a daughter to her and was the only mother Amy knew for many years. She was Nana Kay to Amy's children (Branden, Kekilani and Liyla) and grandchildren and was close to all their extended family spending holidays and birthdays together.
Kay loved playing poker, travelling, and spoiling all the kids who called her Nana Kay. Kay loved animals and her best buddy Charley is waiting for her at the rainbow bridge. Kay was loved and will be greatly missed by all her dear close family and friends.
In lieu of flowers, the family requests donations in Kay's name to your local animal shelter.
The family will share information on a service to remember Kay at a future date.
Share This Life, Choose Your Platform!