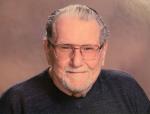 Tom Krucek, age 83, of Olmsted Township, OH, died peacefully at home on July 12th, 2021. Beloved Husband of Joanne Krucek (nee Pejeau). Brother to David Krucek. Preceded in death by his parents Walter and Elizabeth of Cleveland, Ohio. Father of five sons, Thomas, Timothy, Todd(deceased), John, and Jason. Grandfather of 10, Great Grandfather of 2.
Tom was the owner of Superior Muffler and Brake which had two locations in N. Olmsted and Cleveland. He enjoyed Boating, Motorcycles, and his family. Tom was a member of North Olmsted Friends Church where he met many lifelong friends.
A Celebration of Life will be held this Friday, July 16th at 10:00 a.m. at North Olmsted Friends Church, 5665 Great Norther Blvd. 44070. Refreshments and food will be available after the service. All are welcome.
Share This Life, Choose Your Platform!