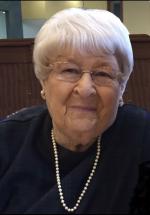 Jeanne Lillian Leonard, 95 passed away peacefully on October 31, 2021.
She was born to the late William and Lillian (Doyle) Miller. Jeanne was married to the late Wallace R. Leonard and they lived their lives together in the West Park neighborhood of Cleveland. For the last 20 years Jeanne resided in Rocky River, Ohio.
She is survived by her son, Dale Leonard of Cleveland and daughters Jaclynn (John) Yatson of LaGrange and Stacey Bonneau of Vermilion. And the grandmother of Nicole Burns of Sheffield Lake, Kristen (Kevin) Burns of Elyria Township, Dale Leonard II of Cleveland, Brandalynn Bonneau and Cassandra Bonneau both of Vermilion and Lisa Martinez of Akron. Great grandmother of Hailey, Brendan, Kaitlyn, Kellen, Mackenzie and Cameron.
Jeanne enjoyed singing, dancing and volunteering for various organizations.
She was a member of Saint Bernadette Catholic Church in Westlake, Ohio.
Funeral arrangements are pending at this time and will be announced at a later date.
Share This Life, Choose Your Platform!