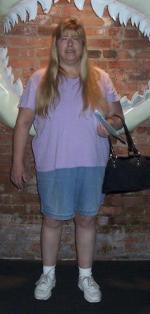 Cheryll Anne Martin
September 4, 1963 – March 10, 2023
Cheryll Anne Martin, the beloved wife of Glenn Martin, passed away on March 10, 2023 after battling a series of illnesses. She leaves behind her mother Jeanne, sister Laura, four nephews, God mother aunt Madeline, many aunts, uncles, cousins and friends. Preceeded in death by her father Howard Glancy and brother Howard Jr.
Cheryll had a passion for many things. Starting with her and Glenns cats, her Irish heritage, football, especially the Cleveland Browns, The Ohio State Buckeyes, and Notre Dame. What stood out the most was the love she had to offer. If she loved you, you knew it. If she didnt.. well, you knew that too. (ha-ha)
Her big heart, her matter of fact personality, quick wit, and contagious laugh were only a few of the pieces of the puzzle that was Cheryll Anne Glancy Martin.
She will be deeply missed, may she live on in our hearts. Plant some flowers, adopt a pet, and for the love of all that is good and pure, let the Browns win!
Share This Life, Choose Your Platform!