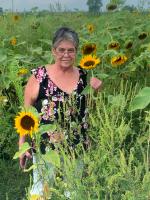 Sandra ( who preferred to be called Sandie) Kay Martin grew her angel wings and is no longer in pain. She joined family in Heaven on January 29, 2023 with her family at her side. Sandie fought a 6 year battle with metastatic cholangiocarcinoma. It would be wrong to say that she lost her battle because she never stopped fighting. No matter how sick she was, she was always determined to move onto the next treatment. When anyone else would have been broken, Sandie stayed strong and never gave up hope. Through her, we know what resilience and perseverance truly look like. There was no quitting. Just because she is no longer here, it doesn't mean she lost her fight. She fought all the way until the end.
Sandie loved her family, spoiling her grandkids, and Winnie the Pooh. She was always ready to joke around, had a smile on her face and sometimes even cause some mischief. Especially with her Best friend Sandy Walker.
Sandie was 66 years old when she passed away. She was with her Husband Willard Martin for 47 years. She is survived by her husband, her two children, 9 grandchildren and 3 great grandchildren. Her daughter Charmain and Michael Canfield of Westlake Ohio with grandchildren Rebecca , Donna, Faith, Hunter , Miya, Payton, Aiden Canfield.
Her son Steven Tate of Clarksburg West Virginia with Grandchildren Tori Tate and Destiny Scott – with her great grand children Graysynn , Carsynn, Lilahbelle Scott.
She has 3 surviving sisters and two brothers. Shirley and Mike Penner, Kathy and Mike Martin, Mary and Butch Drain all of Mannington WV. Denzel and Esther walls of Ashland , OH Larry Walls of Clarksburg She has many surviving nieces and nephews. She was preceded in death by her parents Father: Robert Bruce Walls and Mother: Lona Higgins Walls, as well as three sisters Alice walls Friend, Pansy Walls Owens and Patricia Ann Walls. There will be a celebration of life in Ohio and West Virginia. Date and time to be announced. She is going to be so very missed by her family and friends.
Share This Life, Choose Your Platform!