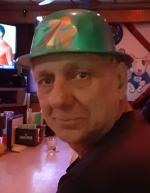 Jeffery McKnight, 61, of Bedford, passed away on April 21, 2022. Jeff was born on July 5, 1960 to Wilmont and Dorothy (Blewitt) in Oakwood Village. Jeff was predeceased by both parents and brother Monte. He is survived by his sister Susan (Bill Predovich), wife Donna (Rusniaczyk), stepson Rob (Callahan), daughter Jennifer (Chris Hebebrand) and son Scott. Jeff has many grandchildren, nieces and nephews and enjoyed spending time with his great grandchildren Elijah and Addisyn.
Jeff was a member of the Timko Bar family and enjoyed watching many NASCAR races there. The family will be holding a benefit dinner on Sunday May 8th from 1-4 during a race at the Timko bar. Donations for such will aid in the expense of his funeral arrangements.
Share This Life, Choose Your Platform!