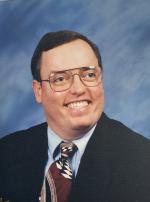 Age 64, (Born August 28, 1957) passed peacefully on June 10, 2022. Beloved husband of Marlene A. (nee Durci) (2020). Dear son of the late Daniel James McLaughlin (1969), brother of Baby Thomas (1966), and step-son of the late Allan F. Lewicki (2011). He is survived by his dear mother, Patricia A. McLaughlin Lewicki (nee Hicks), siblings David Colucci (Karen), Daniel McLaughlin (Charlotte), Linda Wolf (Mark), twin to Donald McLaughlin (Janice), Mary McLaughlin, Eileen Heinbaugh (Jeffrey), Maureen Maier (Brian), Robert McLaughlin (Ruth), Nancy Caldwell, Kevin McLaughlin (Jennifer), and Patricia Patranc (Craig), and step-brother of Norman Lewicki (Lynne), Paul Lewicki (Josette), and Martin Lewicki (Shelley). Ron had many aunts and uncles and was blessed to be the caring Uncle of many nieces and nephews, and beloved cousin and friend to many. He graduated from St. Ignatius High School, Magna Cum Laude from John Carroll University, and received his Law Degree from the Cleveland-Marshall College of Law, Cleveland State University. He was known for his kindness, charity, and compassion in both his professional career and personal life and will be dearly missed by all.
Ronald's Memorial Service will be held at Journey Church at the Fairview Park Campus, 21220 Lorain Road, Fairview Park, OH 44126 on Friday, August 26th, 2022 at 6pm. The Interment Service will be held at Sunset Memorial Park, 6265 Columbia Road, North Olmsted, OH 44070 on Saturday, August 27th, 2022 at 11am. A Memorial Mass for Ron will be held at Our Lady of Mount Carmel Catholic Church, 6928 Detroit Avenue, Cleveland, OH 44102 on Monday, August 29th, 2022 at 10am.
In lieu of flowers, donations in honor of Ron may be directed to the American Cancer Society for Melanoma Research at Donate3.cancer.org.
Share This Life, Choose Your Platform!