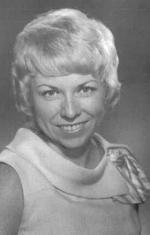 Christine Lila Miles died on March 16th, 2021. She was born in Bath, Ohio on July 6, 1933. She started piano lessons at 6 years old and played the piano throughout her whole life. Christine graduated from Bath High School in 1951. She graduated from Baldwin Wallace Conservatory of Music, with a Bachelor of Music Cum Laude in 1955. She studied further with Theodore Latvin, Cleveland Music School Settlement, Vronsky and Babin, and Arthur Loesser at the Cleveland Institute of Music. She sang soprano in the Cleveland Orchestra Chorus under Robert Shaw from 1955 to 1959. Christine was awarded Professional Registration by the National Association for Music Therapy, Inc. and was Director of the Music Therapy Department at Cleveland State Hospital from 1956 to 1960. Christine married Dr. David Gitlin, MD on March 6, 1960, and they had three children. Together with Dr. Gitlin in the 1960's she worked with the Berea Council on Human Relations to promote civil rights. From 1968 to the end of her life, she was a tireless supporter of the arts in Northeastern Ohio. She was President of the Baldwin Wallace Conservatory Women's Committee from 1968 to 1970. She was on the Board of Trustees for the Cleveland Music School, The Cleveland Music School Settlement, the Ohio Chamber Orchestra, and the Cleveland Opera Company. She was a leading force for the Cleveland Orchestra, the Cleveland Youth Orchestra, and many other organizations too numerous to list.
Christine was elected as Councilman-At-Large in Berea from 1971 to 1973. She served as a Special Aide to Congressman Ronald M. Mottl from 1973 to 1976. In 1976 she was the first woman to chair the Ohio Democratic Delegation to the National Presidential Convention. She was Deputy Coordinator for the Jimmy Carter campaign. With her husband David Gitlin she was invited as President Carter's personal guests to the White House, and was appointed to the National Advisory Board on Ambassadorial Appointments. She was a Congressional Aide to Congressman Dennis Kucinich from 1997 to 2013.
Christine Miles designed her own home. She was renowned for her greenhouse and her sumptuous gardens-a yard without a single blade of grass. She was a collector and connoisseur of all kinds of Fine Art and Sculpture. She was an accomplished gourmet chef. Christine was a world traveler to Europe, Africa, and Asia. She was always impeccably and stylishly dressed.
Christine Miles was preceded in death by her parents, a brother, a son, and Dr. David Gitlin. She is survived by her daughter, Deborah Gitlin, of Walkertown, North Carolina, and a son, Donald Gitlin, of Bangkok, Thailand.
Share This Life, Choose Your Platform!