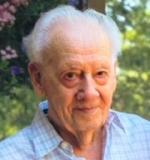 George Molinelli, age 101, of Rocky River, OH, passed away Wednesday, July 8, 2020 at Ames Family Hospice in Westlake, OH. George retired from the knife sharpening business in 1982 in Los Angeles, CA. He was a World War II army veteran and a navy veteran from the Korean war.
He is survived by his loving wife, Joan, of 27 years, stepdaughters, Jan Hale, Christine Bergant, Therese Shafer (Greg), Clare Kaminski, Mary Warnkey (Mark) and stepsons, John Kaminski (Claudia) and Matthew Kaminski (Mark) and many beloved nieces and nephews, grandnieces and grandnephews.
He was preceded in death by his son, Richard Molinelli, his first wife, Laura and his second wife, LaVerne, brothers, Dominic Molinelli, William Molinelli, Frank Molinelli and sisters, Helen Mase, Mabel Cozzini, nephew, Richard Cozzini and stepson, Mark Kaminski.
Private funeral services will be held at St. Christopher Catholic Church in Rocky River, OH, with entombment at Lakewood Park Cemetery in Rocky River, OH.
In lieu of flowers, the family welcomes donations to:
Hospice of the Western Reserve
17876 St. Clair Ave
Cleveland, OH 44110-2602
The employees and volunteers at Ames Family Hospice were medically efficient, kind and very compassionate.
George's Story
Born in Brookyn, New York, George was the youngest of Louis and Josephine Molinelli's six children. After working in very difficult conditions in the fur market for years, Louis died very young and George, a teenager at the time and the last of the children still at home, felt he should support his mother and went to work. His jobs included making eye glass frames, paper tablets, and even sanding cars waiting to be painted.
At the age of 18 George was invited by Henry, his brother-in-law, to learn the knife-sharpening craft and work in Atlantic City. George loved Atlantic City where they had the piers and boardwalks with popular bands entertaining. He enjoyed working with Lee, Henry's brother, and sent his money home for his mother. Eventually, George returned to Brooklyn and got a job in the fur market, delivering the furs to be cleaned, dyed and made into coats.
When World War II began, George was drafted and sent to Fort Bragg, NC, where he learned to be a sharpshooter and had 3 months of training. He was then sent to Italy where he spent almost 3 years in combat against the German army, returning as a Staff Sergeant. The highlight of his time in Italy was visiting the Vatican after the war ended; he and a few other soldiers were granted an audience with Pope Pius XII who spoke with them in English.
George married his sweetheart, Laura, after returning home, and they took a train to California to visit his mother who had moved there to live with her daughters. Laura learned in her first pregnancy that she had polycystic kidney disease, a serious condition for which the doctor felt she would not survive the birth of her baby. She was determined, however, and Richard, their only child, was born in November, 1946.
After years working different jobs, George took his brother-in-law's advice and joined the Navy Reserve, so he could make $14 per month. However, when the Korean War broke out, he was immediately drafted into the Navy and was sent to Japan where he, being a sharpshooter, had to accompany the seamen on the ship to the shore of Korea to pick up the wounded. His job was to watch for snipers. Several of the ships were destroyed by mines in the sea, so it was dangerous work. When his mother died, the Navy sent him home for two weeks leave. When he returned, he was given a different job, much to his relief and safety.
In his life, George suffered many sorrows, but he seemed to have the strength and the trust in God to always be able to continue finding ways to be happy. After his wife, Laura, died at age 46, he was able, in a couple years, to love again. He married a lovely woman named LaVerne, who shortly after their marriage, helped care for his son, Richard, who fell sick with Hodgkin's Lymphoma and endured chemotherapy. Richard eventually was in remission for 10 years and became a teacher at the Switzer Center, where he was successful in helping troubled boys by teaching them not only their studies, but also basketball, baseball, etc. Richard passed away suddenly in 1982, and George, who had just retired, was devastated. But, he managed with the help of LaVerne and his brothers, sisters, nephews and nieces, to continue with life.
Subsequent years brought the death of LaVerne, but with the kindness and encouragement of his stepdaughter, Jan, he was able to continue with his faith in God's plan for him and to seek love again. His death in July, 2020 marked his marriage of 27 years with his wife, Joanie. He told her he never blamed God for all the sadness he endured. Perhaps that is the secret to a happy life: to accept what comes, to keep living a happy life and never feel sorry for yourself, but to keep looking for that happiness each day.
Share This Life, Choose Your Platform!