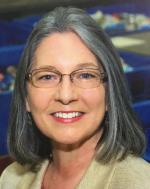 Mary Eileen O'Shea, born December 8, 1954, died September 3, 2020. Preceded in death by parents, Tommy and Rita Mae, and brother Patrick (Christine). Greatly loved and missed by spouse Mike Beckman, sons Ben Beckman (Ali Day) and Jake Beckman (Lizzy Hindman-Harvey), grandchildren Anders, Cleo, and Skyler, siblings Kathy (Scott) Meyer, Patty, Kevin (Mary), and Timmy, as well as many nieces, nephews, friends, and colleagues.
Mary grew up in Akron, Ohio and attended Saint Mary's High School. She graduated from Cleveland State University with a BA in Philosophy, and later completed coursework in non-profit management studies at the Mandel Center for Nonprofit Organizations at Case Western Reserve University.
Mary held positions of leadership at the Cleveland Food Co-op, later moving to Planned Parenthood of Northeast Ohio to serve as the Director of Public Policy. At the Greater Cleveland Foodbank, she pushed for food equity in our region as the Director of Advocacy and Public Education, fighting for policy and legislative support in Columbus and Washington, DC.
Mary loved gardening, walking, being with her grandkids, and just hanging out with her husband Mike, partner for 32 years. She was a wonderful writer and editor, accomplished in things as disparate as poetry and opinion pieces. She drew inspiration and joy from the people she worked with, whose energy, enthusiasm, and commitment were a constant source of pride and delight. In all of her various roles, she worked to support and mentor many people in their careers. Her quick wit, deep wisdom, and knack for compassionately sharing a hard truth were a great gift to those lucky enough to know her.
Mary had many friends, and a few very special close ones on whom she relied for support, encouragement, and advice. She had a loving relationship with her family, about whom she cared very much. She felt a special bond with her younger sister Patty, her "Irish Twin."
Mary was an untiring advocate for people's right to healthcare and nutrition. Her passion for fairness and justice led her to take part in many activities, including the Central America Solidarity Commitee, abortion rights causes, and activities in support of social and economic justice in the region and beyond.
The family welcomes thoughts and memories below. In lieu of flowers or gifts, please remember Mary with contributions to the Greater Cleveland Food Bank ( www.clevelandfoodbank.org ) or Planned Parenthood (www.plannedparenthood.org). A forthcoming celebration of Mary's life will be planned for a future date. Check back for more details or register to receive an email announcement regarding that ceremony by copying and pasting in browser https://forms.gle/MZdbeaVWP4rhwonw6
Share This Life, Choose Your Platform!