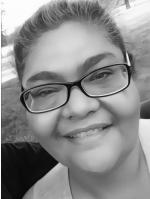 Alma Maria Perez "Elmo" 56, of Toledo, Ohio, passed away on Monday October 31, 2022 surrounded by her loving family and friends at the Cleveland Cardiology Clinic.
She was born to Jesse and Mary Jane (Flores) Perez Jr. at St. Vincent's Hospital on September 3, 1966 in Toledo, Ohio. Alma was a 1984 graduate of Perrysburg High School and briefly attended BGSU.
She was preceded in death by her father Jesse Perez Jr., sister Nelda M. (Michael) Ormsby, Grand Parents Jesus & Delia (Esparza) Perez Sr. and Jose & Concepcion (Ramos) Flores.
Alma is survived by her Mother, Mary Jane Perez, children Nathaniel K. Perez, LaTisha M. Williams and Charles E. Williams III. Grandsons Charles E. Williams IV and Noah I. Williams. Siblings, Diana M. (Jose) Ruiz, Idahlia M. (Dennis) Perry, Jaime Perez, Armando J. Perez, Anjelica J. (Anthony) Jones and numerous niece's and nephew's.
The Family will hold a Celebration of Life at a date to be announced.
Those wishing to make a donation please consider donating in Alma's name to the Cleveland Clinic.
Share This Life, Choose Your Platform!