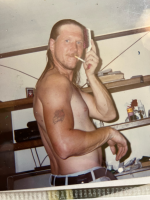 In Great Honor Of;
Thomas E. Plona
12-11-57 11-03-22
Loving & Caring Husband To SherriLynn Plona; Beloved Father To John Turk, Amanda Plona, Autumn Plona, Rebecca Plona, Joshua Kelly(son in law) & Thomas J Plona; Grandfather To Josalyn Dye; Amazing Brother, Uncle & Awesome Friend To Many.
One Of The Hardest Working & Honorable People To Walk This Earth!
Tom's Face, Laugh & Personality Would Light Up The Room No Matter Where He Went. So Many People Know Tom as Big T!
Siding Was His Passion, Being A Great Role Model Is What He Was! His Mark On Earth Will Forever Live On. He Couldn't Go Anywhere Without Someone Stopping Him To Talk Because He's Known So Well! He Is Missed & Loved By So Many, But God Needed One Of His Strongest Angels To Come Home. As Ozzy Said, We'll See You On The Other Side!
Share This Life, Choose Your Platform!