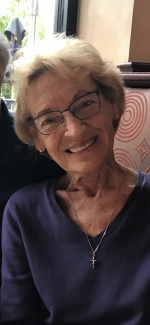 Marsa Faye Romanini (nee Stofcheck), age 71, joined our Heavenly Father on March 28, 2022. Born in Waynesburg, PA to Robert and Elizabeth (nee West) Stofcheck on August 8, 1950, Marsa spent most of her life in the Cleveland area. She was the most beloved wife to Thomas Romanini for almost 50 years, and loving mother to Tricia Hale (Robert) and Tracie Voice (Sean). She loved all her grandchildren so dearly~Dominic, Brandon, Mia, Tommy, Marlee and Samantha. She was the dedicated sister to Vickie Duran and the late Barbara Brayer, and aunt, niece, cousin, and friend to so many.
Marsa held several job titles over the years. These included: administrative assistant for various workplaces, owner of a video store for 12 years, and manager/owner of rental properties with Tom. She absolutely thrived at everything she did. Among her many "jobs," she was most proud to be a loving wife, mother, and sister, as well as a wonderful friend to each.
When she wasn't working, she loved spending time with her family and friends. She was always in the middle of a good book. She loved to travel. Although she had her favorites, there wasn't a casino she wouldn't try her luck in! Some of her most favorite memories were on a sailboat with her dear friend Mary Ellen. Those days may have become physically harder, but they were so good for her heart and soul.
Marsa developed rheumatoid arthritis in 1999. This disease may have caused her to be physically frail, but she was incredibly strong in every other way. Despite having this painful, mobility-limiting disease, she never complained and always wanted to turn the focus to others. She was the rock of the family, and an inspiration to so many.
Marsa was strong in her faith, spreading her "God bless you's" far and wide. She was a friendly face, the best listener, and gave you her undivided attention. She had the best advice to offer and a beautiful way with words. She was the best role model in every way. If you knew her, you surely loved her.
A celebration of Marsa's life will be held on Sunday, June 12th, 2pm-6pm, at Caffe Roma. 13000 Lorain Avenue, Cleveland, OH, 44111.
Share This Life, Choose Your Platform!