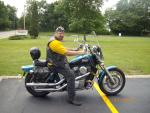 James Ross Salvo age 65, passed away on November 21, 2020.
He is survived by his son James Salvo, daughter Lisa Frost (Brian), and son Tino Salvo (Alyssa), brother Frank Salvo (Ralph), sisters Teri Salvo (Tom), Tina Rimbach (Drew), and brother in law Steve Weiner. Four Grandchildren, one Great Grandchild, many nieces, nephews, cousins and friends.
Proceeded I death by his parents James and Erma Salvo, and sister Lynne Weiner.
Services will be private. A memorial service will be held at a later date next year.
Share This Life, Choose Your Platform!