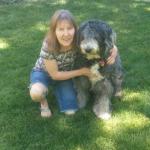 Christine Margaret Santa, age 65, residing in Strongsville, OH, passed away on Monday, October 17th, 2022.
Christine was born on November 25th, 1956, and grew up in Parma Heights, OH. She graduated from Valley Forge High School in 1974. After high school, she had a job as an assistant librarian at Jones Day Law Firm, where she worked for 45 years until she retired.
She had her first son when she was 30, and had twin sons when she was 36. She was a selfless parent that always put her family before herself.
She had a full life, and enjoyed going for walks, cooking, reading, music (especially the Blues & Rock & Roll), travel, gardening, astrology, numerology, and Christianity. Chris was strong in her faith. And she enjoyed watching the Cleveland Browns football games.
She is survived by her two sisters, three sons, one niece, four nephews, and one grandson.
She is preceded in death by her parents George & Rosemary Santa (Arkey), Brothers George and Larry, and sister Jeanne. Also her beloved pets, Comet and Coco.
A Life Celebration will be held in her honor on Monday, November 7th at the Malloy Esposito Celebration Center at 6384 Pearl Rd., Parma Heights from 5-7 P.M.
In lieu of flowers, the family requests donations can be made to Christine's church, St John Neumann (16271 Pearl Rd., Strongsville, OH 44136).
Share This Life, Choose Your Platform!