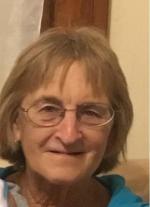 Nancy Ann Schaar (nee Smerdel) passed into God's embrace at the age of 70 on December 30, 2019, after a 2 year battle with glioblastoma. She now joins her husband, Clifford Kenneth Schaar, whom predeceased her in 2007. Both spouses were in the Army and may have me there, although they were always a bit vague about the origin of their relationship admitting only to knowing one another much longer than the years listed on their marriage license.
Nancy was born January 5, 1949, in Ohio and would become the eldest of her parents, Elizabeth and Joseph (deceased). In addition to her mother, she is survived by her siblings Margaret, Leland (Lorelei), Carl, and Richard (Janet), as well as many nieces and nephews.
She loved family and of all her careers, her favorite to be was a mom—and she was the best at it. Her children Christina (Ben), Michael (Katrina), and Kimberly all survive her as well as her grandchildren, Danielle and her son Odin, Zachary, Izabella, and Cynthia. She raised strong children and taught them to stand up for themselves and each other. She never started a fight but was not one you wanted to provoke. She was a friend to everyone she met and her absence from this Earth will not go unnoticed. She made sure her children were strong enough to carry on in her absence. Although, it will not be easy, Nancy was a wonderful mother but also our confidant and friend. We love you mom.
Cremation is being handled by Malloy & Esposito and a private celebration of her life will take place this Spring. In lieu of flowers, donations can be made to the American Cancer Society.
Share This Life, Choose Your Platform!