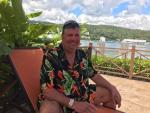 Donald E. Scheeff (Donny) age 59 married to Kimberly (Lambert) Scheeff, Born on May 26, 1963 in Cleveland Ohio passed away peacefully after a long and grueling battle with cancer in his home in Brook Park, OH surrounded by his loved ones.
Donny was the loving son of Dennis G Scheeff (deceased) and Sharon (Hein) Scheeff.
Donny is father to Steven Scheeff, Cynthia Scheeff and Kassandra Powers (Jimmy). He was papa to Makenna, Peyton, Harper and Conor Lasker, Connor Powers and Jayden Lyons.
He was a loving brother to Dennis Scheeff and Dionne (Bob) MacDonald and uncle to Helen and DJ Scheeff and Zack and Dayna MacDonald.
He was preceded in death by his father, his first wife Barbara (Mohney) Scheeff, grandparents, aunts and uncles.
Donny loved all styles of music but especially by artists Frank Zappa and Todd Rudgren. He loved camping and the outdoors, motorcycles and just adventures in general. He was an avid sports fan of Ohio teams and enjoyed watching games by the Browns, Guardians and OSU. He was an American Patriot and supported the armed forces every chance he could. He retired from The Ohio Nut and Bolt company in 2021 after working there for 23 years. He also worked for many years for Hall Entertainment as a security guard and usher at many venues. He spent several years volunteering through the CERT (Community Emergency Response Team) in the city of Brook Park. He loved the state of Ohio for all its beauty especially its sunsets.
There will be a private ceremony for family only – please consider donating to Pay It Forward to help artists get up and running with their careers https://www.paypal.com/donate in memory of Donald Scheeff.
Share This Life, Choose Your Platform!